It's peaceful and pleasant sitting under the young kiwifruit vines of Hamama Orchard.

But this land has a troubled and bloody history, as one of its owners Hoani Kerei tells.

Hoani Kerei sits beneath a vine and recounts the 800 years of history of the land on which it grows.

Leaning against a kiwifruit vine he recounts the story of war and revenge, of kidnapping and escapes, of courage and hardship which marked the land's first several centuries.

Hoani and the 72 other owners trace links to the land back at least 800 years. "When the migration canoes arrived, we were here to meet them," he jokes.

But he's more serious about the seven-plus centuries of bloodshed. "All that began to change when missionaries arrived."

More peaceful time prevailed and Hamama Orchard and those which adjoin it are established on fertile coastal land which from the 1800s was gardened by local people.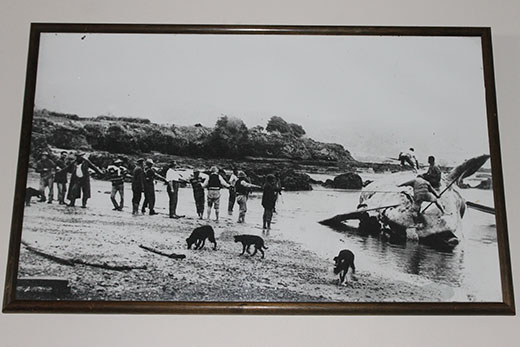 In the past whaling provided an income for Te Kaha residents.

Land's guardians
However, in more recent times Te Kaha has suffered from a lack of employment with little to encourage people to stay or return to the land.

Moves to reverse this trend began in 1999 when the guardians of the land formed a 20-year joint venture with independent investors to develop a kiwifruit orchard employing local people, and providing an income and asset for the landowners.

The environment proved ideal for the lucrative gold kiwifruit Hort16A and in the two seasons before the variety was hit by the vine-killing disease Psa-V, the 10.7 ha orchard returned about $200,000 per hectare.

That level of return enabled the joint venture to re-graft the orchard to the new more Psa-tolerant variety G3, also known as Sun Gold, without incurring debt and pay a small dividend to shareholders and land owners. Management of the 4.41 canopy hectare orchard is overseen by OPAC and the company's orchard operations team manager Alan Dobbie says the joint venture is the most exciting project he's been involved in decades of orcharding.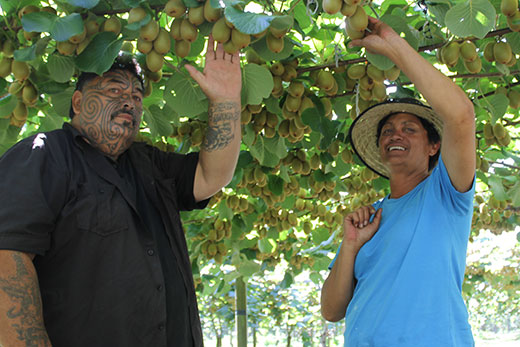 Hoani Kerei and his cousin Piua Kereri, both part owners of the orchard, are involved in its management.

New skills
"This joint venture is making a huge difference to Te Kaha. The locals now have employment, are gaining new skills and qualifications and take pride in what they are achieving."

Today up to 30 people work in the orchard, depending on the tasks required to be carried out.

Hoani returned to Te Kaha after years away shearing and turned his hand to orcharding, learning not only practical skills but gaining a diploma in horticulture too. His cousin Piua Kereri returned to Te Kaha to raise her children, and is furthering her qualification by undertaking the National Certificate in Horticulture Advanced programme focusing on orchard management.

OPAC operates a safety-first drug and alcohol-free work environment under which pre-employment drug testing and random testing is a standard.

Piua and Hoani say this policy initially caused many workers to leave the orchard.

"Some took the time to stop using drugs and alcohol. Others haven't come back, but those who have say it has made a huge difference to their lives," says Piua.

"It's also made a difference in the wider community with a reduction in domestic violence, meaning everyone, especially the children benefit.

"OPAC also has a counsellor available for anyone who needs help, which is great because in a small community like this it's not always easy to admit you have a problem," says Hoani.

Optimism was high when Hamama Orchard was in full production but when the Psa-V bacterial disease hit the vines, Hoani says it was like watching a loved relative die from cancer.

"It was a very hard time, seeing the effects of the disease and then having to cut out the vines."

Recently a gully has been cleared of honeysuckle, a host plant for unwanted insects, and will be planted with native plants in winter.

Other ventures have evolved from the Hamama Orchard joint venture, including a company formed by locals carrying out spraying and orchard mowing and another for under-vine spraying.

"These ventures are not a hospital. They are real companies making a real difference in the Te Kaha community alongside the orchard with production statistics in the top quartile, which any kiwifruit grower would be pleased to have," says Alan.

Te Kaha 14B2 – also known as Hamama Orchard, has as its vision: "Full utilisation of our whenua to create profitability and opportunity for our people".

It's well on the way to realising that goal and in doing so has given an isolated rural community a much-needed economic and confidence boost.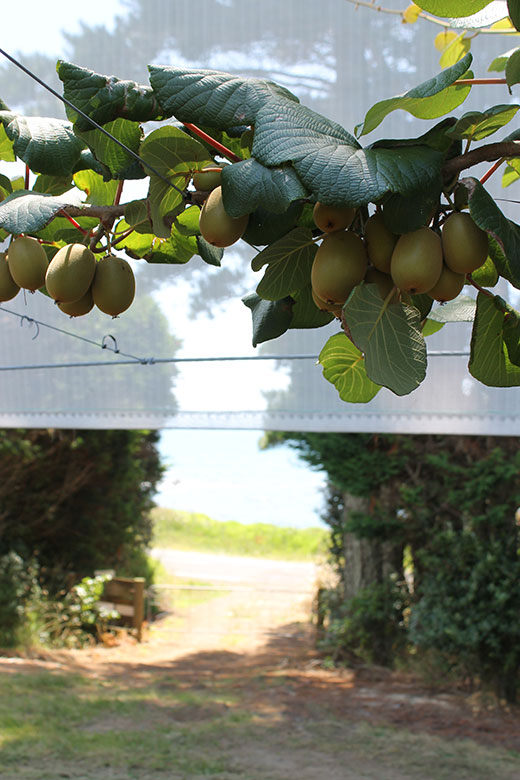 Hamama Orchard's name means "opening from the bush to the sea" which is totally appropriate for its coastal location.