Nestled in the Papamoa Hills is a balance between forest, farm and mountain bike tracks with jumps and all. Summerhill is 400ha of land equally split between farmland and forests – including specialty timber species Cypress, Victorian ash, Tasmanian Blackwood and Poplar.
It was officially opened to the public for recreation in 2014, when Summerhill owners Cloie and David Blackley unconditionally gifted 126ha to a charitable trust.
"While they're well retired now, my parents still get a lot of pleasure from going into the forest, and seeing people enjoy it," says their daughter and Summerhill Charitable Trust chair Gabrielle Walton.
"We all enjoy seeing that – it's a lovely by-product of the forest."
Shaking off 'pine mentality'
Summerhill forest has been in the making since 1960, when Cloie and David decided to plant their steepest land in pine trees.
Today, pine is just one of the species grown at Summerhill. Gabrielle says growing a variety of trees is both good for the environment, forest health and the Summerhill Timbers forestry business, which she co-directs with her husband Andrew Walton.
"Our objective has always been to provide a diverse range of timbers for the NZ marketplace."
Growing different species means the business benefits from both fast-growing trees like pine, high-value exotics, and natives that can take more than 50 years to mature. "We strongly believe in intergenerational planting – planting high value trees that span more than one generation to produce amazing timbers."
Climate care
The environment is a top priority for Summerhill. At the time of writing this, Summerhill Timbers is in the final stages of obtaining a Forest Stewardship Certification, or FSC.
"FSC shows potential customers that their wood is ethically sourced, by ensuring we comply with the law, have an adequate environment plan, and have transparent documentation."
Gabrielle, who is a qualified landscape architect herself, says the Government's recent Building for Climate Change bill, which will put a preference on low carbon emitting materials like timber, is a positive.
She hopes the bill encourages NZ building industries to use more NZ-grown timbers. "The range of timbers we grow at Summerhill are diverse in colour, features, durability…and can all be used in NZ buildings.
"The rich, dark colour of Tasmanian Blackwood makes beautiful furniture and Eucalyptus and Poplar are pale and strong. We grow a wonderful range of timbers in NZ – so why not buy local?"
Growing a home
Gabrielle and Andrew play by what they preach. From Poplar walls to the Tasmanian Blackwood floors, their home is almost entirely constructed from Summerhill timber. "We worked with architect to get the balance right between the different timbers, and we're really pleased with how it turned out."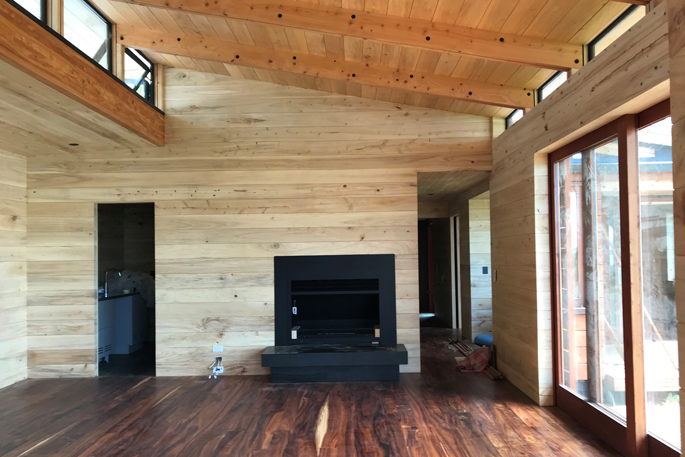 Working with Summerhill Timbers is a collaborative process. Architects and builders approach the business with a project idea, and they work together to find the right timber for the job. "We provided wood for Waikato University Tauranga's atrium. The building has laminated Cypress timber ribs going up several stories, which accentuates the space and gives the warmth of wood.
When David and Cloie were sole owners of the land, they were constantly asked by people if they could walk through their property to the historic Papamoa Pa sites. Through the Summerhill charitable trust, walking tracks connecting the property and the regional park have been established. Mountain Bike Tauranga created several tracks throughout the forest, and are constantly adding more.
Continuous cover forestry
The forest and recreation work hand-in-hand, thanks to selective harvesting and Continuous Cover Forestry. Recreational tracks create easy access for contractors to fell individually selected trees, and not clear felling keeps the stable.
CCF allows an ecosystem below the trees to establish itself, and perpetuate. "There's still plenty of forest cover to reduce weeds and to provide a forest setting for the public.
"All the greenery on the forest floor, and the ecosystem that comes with it, has the opportunity to grow thanks to the shade provided by the trees – something that wouldn't happen if we clear felled," says Gabrielle.
And while Summerhill may have developed, the land is still used for its original occupation: farming.
The farm has 600 Coopworth and Romney sheep, and 80 breeding Angus cattle throughout 200ha. As well as growing good trees, Gabrielle says Summerhill's loamy soil is great for grazing too. Hikers and bikers get the farm and forest experience side-by-side, against the backdrop of Mount Maunganui and the ocean. "The views are what drew Mum and Dad here in the first place. Adding forestry to the farm has been a wise land use decision. We're certainly proud of what the farm has grown into."
For more information about Summerhill Timbers, visit: www.summerhilltimbers.co.nz