Rob Atkinson has owned bee hives since he was 12 years old, and growing up on a sheep and beef farm in Otorohanga. Today he manages up to 500 hives of his own around the region, based out of his 30-acre block in his hometown.
While the focus is breeding queen bees, it comes hand-in-hand with a sellable byproduct: 15 tonnes of honey a year. "I've been interested in bees for as long as I can remember," says Rob. "I bought my first two hives from a local beekeeper in Te Kuiti."
Rob's teenage job was working as a gopher and box-mover for Orini Honey, during which time he gained a taste for commercial beekeeping. "I started a degree in zoology and entomology at Massey University, but dropped out in the late-1980s and worked for Waitomo Honey in Te Kuiti."
After 25 years working under the tutelage of the owner Mr Bassett. Learning on the job, Rob was running the company's breeding programme by the time Mr Bassett retired in 2009.
Rob bought out the breeding side of the business, and moved the operation to his Otorohanga block. "I didn't want a massive business with lots of staff and debt, so I was happy to do the bees during summer, and I pregnancy-scan sheep and goats in winter."
In order to breed queens, Rob has to manipulate the hives to produce more queens by manually taking one-day-old larvae and grafting them into a "queen cup" and adding several to other hives that are queen-less, or their queen is safely locked up in the box below and can't kill the introduced queen larvae.
"The workers are fooled into thinking they need to feed these larvae with royal jelly, and produce a new queen," says Rob.
It takes 10 days from grafting for a new queen to be ready to sell. They are removed as formed white-coloured bees, still in their queen cup two days after hatching, and picked up by beekeepers to be introduced to a hive that's been split to stop swarming.
"We don't process the honey we produce ourselves, it just goes in drums to a packer and is either bush blend or pastoral honey," says Rob.
Although currently there is a honey glut in New Zealand, the demand for quality queen bees stays high, with 25,000 queens sold from Rob's hives in the 2018 season. With the future of bees and their importance in our food chain being such a hot topic, it is good to see NZ businesses breeding and distributing them.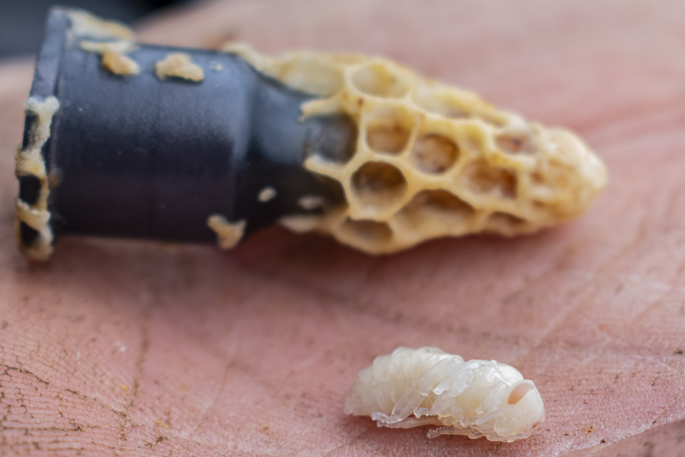 A grafted queen cup, with a two-day-old queen beside it.