It takes courage to buy a rundown avocado orchard – even more so when you know nothing about growing the fruit – but Louise Dinmore and Peter Woods did their homework before committing to Tatara Orchard at Kauri Point near Katikati.

Louise Dinmore and Peter Woods are the new owners of one of the Bay of Plenty's oldest avocado orchards.

The couple, who were living in Auckland at the time, got advice from industry leaders and visited orchards brought back from ill-health before deciding to give it a go.

"We had originally looked at dry stock farms in the Bay of Plenty, but hadn't found what we wanted," says Peter, who grew up on a sheep and beef farm and has been a shearer both here and overseas.

Louise says they began looking at avocado orchards almost by default.

"We didn't set out to buy an orchard but became interested once we started looking. We saw a lot which were too small to be economic, until we found this one."

Louise has a background in accountancy, has operated a business and retains interest in the forestry industry as a director of Red Stag Timber of Rotorua.

Katikati appealed as a location for the couple's new venture because it is close to Rotorua and Auckland, and has a favourable climate.

Daunting task
However, the task ahead on the 12.56ha property they bought late last year was daunting.

"Most of the trees were surrounded by avocado seedlings and weeds more than a metre high. Some of the smaller trees were almost smothered in weeds," says Peter.

Many of the trees were sick, with yellow or very few leaves and the older trees were huge.

The orchard was established 40 years ago by one of the industry's pioneers, the late Arthur Honeyfield, and still has many of the original trees he planted.

Around 9ha is in avocados, with the balance a home orchard and extensive grounds surrounding the homestead, which enjoys views across the Tauranga Harbour.

Among the first experts Louise and Peter asked for advice was Lindsay Heard of Brenmark Horticultural Consultants, who took them to visit the Athenree Improbe Orchard managed by Ross Fowler.

"When we saw the before photos and how the orchard looks now, we began to be confident our orchard could recover," says Louise.

When the Improbe Partnership bought the 10ha Athenree orchard in 2010, the foliage on 80 per cent of the trees was yellow and the rest of the trees looked dead. Four years on, thanks to aggressive pruning, good management and nutrition, it has returned to a healthy productive orchard.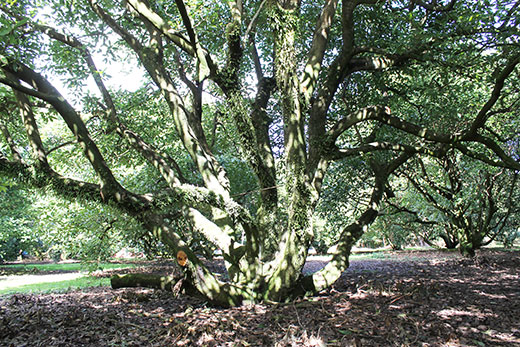 Some of the trees on Tatara Orchard are 40 years old.

History advice
Hugh Moore of KauriPak – just up the road from Peter and Louise's orchard – also gave advice, as well as extensive information about Tatara's history.

Among the growers who have also helped are John Cotterell of Walkers Road West and Brian Robinson, whose Kauri Point orchard was once part of the larger Honeyfield orchard.

"We have been so impressed at how generous everyone is with their time and advice and willingness to help," says Peter.

"We've come to realise how well known and significant this orchard is in the district. Almost everyone who comes to visit or work here knows something about the orchard," says Louise.
Contractor Mike Dillon was commissioned in December to prune the orchard and at first, as the 'mountain' of limbs and branches grew, Peter and Louise wondered just what they had done.

"It looked pretty extreme, and we had to work out an effective way of piling up all the material for mulching. We used a bobcat to do that in the end," says Peter.

Younger trees in one block were among those seriously pruned in December and by August they had re-established a healthy-looking canopy of shiny green leaves. The difference, says Peter and Louise, is stunning.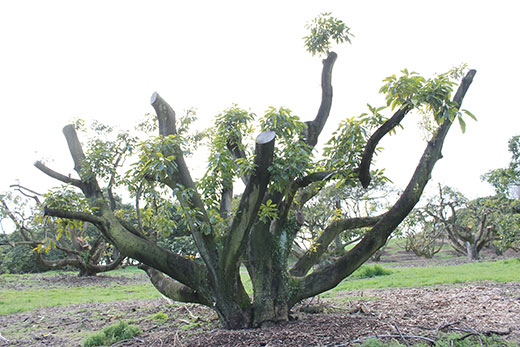 The re-growth after harsh pruning at Tatara Orchard is impressive.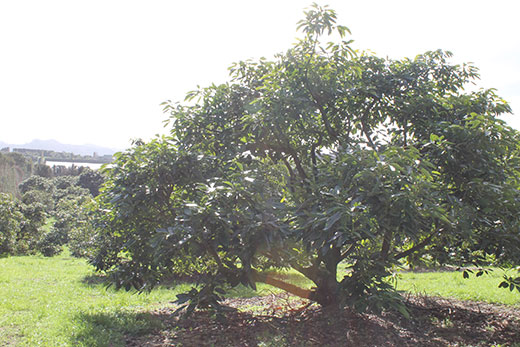 Drastic decision
Other older, larger trees have also received Mike's attention and he's left some straggly-looking branches to ensure the roots are fed. Once new growth is well established, they will be removed too.

Even more drastic was the decision to take out around 100 trees, most of which were not worth saving. They were growing on one of the steeper parts of the generally gentle-contour orchard and the site has been shaped and sown in grass, with a line of young shelter planted, ready for new trees to go in next year.

The soils are volcanic, but parts of the orchard have been contoured so there the top soil is not as deep as would be desirable. The climate is generally mild, as the orchard is close to the harbour.

The couple are following Lindsay's nutrition programme for the trees, hand applying fertiliser to each one. Spraying is done by contractors.

Tatara has also become part of an avocado research programme looking at issues with irregular bearing.

Nutritious fruit
In between caring for the orchard, Peter and Louise are continuing to find out as much as they can about growing avocados and the avocado industry.

"We like the fact that we are part of an industry which produces a high quality, nutritious fruit, especially at a time when the world demand for food is growing," says Louise.

The direction the industry is taking to improve market performance and grower returns is also important. Although they will have a relatively small crop to harvest this season, like other growers Peter and Louise will be closely watching exporters to see how they perform.

They aren't expecting any quick returns on their investment, given the state the orchard was in, but they do expect it to become profitable in future, and provide them with an income as well as a lifestyle.