Now that it's turned 20, the Foundation for Arable Research is considering which technologies will drive its development in the next two decades.

FAR CEO Nick Pyke with 2014 FAR Researcher of the Year, Dr Ian Harvey, and FAR chair David Birkett.

FAR was set up in 1995 to "undertake practical research for arable farmers" and since then the levy-funded organisation has developed to actively undertake research and extension on a broad range of grain and seed crops in New Zealand and Australia, and, in more recent years, developed a broader systems approach to research.

FAR CEO Nick Pyke has led the organisation since day one. He says it's difficult to single out any particular project or piece of research as the most important, because the organisation's research focus is so broad and has developed over time.

"Our first achievement was the first referendum that gave us the mandate to proceed and form FAR. Initially, our research focused pretty much within the farm gate on things like crop inputs and cultivar selection."

Key achievements
"From there grew one of our key achievements, our involvement in the Cultivar Performance Trials, which provide growers with completely independent advice to help them select the appropriate wheat and barley cultivars to meet their production and agronomic needs.

Nick says it's been pleasing in the last 12 months to see the development of a similar programme for the maize industry.

"Another key focus has been on the development of long-term research sites and we are very lucky to have maintained access to our Chertsey and Waikato Arable Research Sites for 12 and eight years respectively.

"Location-wise they provide a focal point for our work, and importantly they allow us to carry out long-term research, comparing results over a number of seasons and years.

"Research is only part of what we do, and is of absolutely no use if it isn't partnered with a strong extension programme.

"Our extension work is a combination of meetings, field events and publications.

Nick says all of these have developed over time, as research projects have increased in number and scope; and as results accumulated.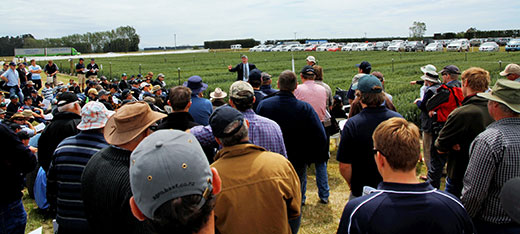 FAR's crops field day is now the largest one-day agricultural extension event in New Zealand. Last year it attracted more than 600 people to FAR's research site at Chertsey, near Ashburton.

Compile results
"For example, strategy booklets which outline tested options for disease management and nutrient use on grain and seed crops are based on several season's research results, and FAR Focus books compile the results of several projects over several seasons to provide comprehensive information on topics like converting pasture to crop, irrigation management and nutrient management."

A key development for FAR in recent years has been an increased focus on research into whole farm systems and managing the environmental impacts of cropping farms.

This in turn has led to increased collaboration with other primary sectors, particularly the dairy industry, and with other research providers, notably the Crown Research Institutes and universities. It's also led to an increase in external funding, with FAR levy funds being used to leverage contributions from central government agencies, the Ministry for Primary Industries and the Ministry of Business, Innovation and Employment.

An example of this collaborative approach is the 20t by 2020 project. The 20t by 2020 involves FAR, Plant & Food Research, Canterbury University and NIAB TAG in the UK, and aims to up wheat yields, increase productivity and improve farm profitability.

Each partner organisation is contributing funding and or expertise, and in the case of NIAB TAG, replicating trials in the Northern Hemisphere to add knowledge to the programme.

A further recent focus has been the identification and development of new, higher value products and systems for the cropping industry.

The Avanex grasses, released by PGGW last year are an example of FAR having involvement in a new product from concept to commercial production.

Nick says since its formation, FAR has successfully increased research investment from about $1 million of levy funds, to $5.5 million of levy and grant funds.

Trans-Tasman
The development in Australia has led to the development of a range of trans-Tasman collaborative research and extension programmes and the establishment of FAR Australia in 2012.

FAR operates with a staff of 23 across four sites in New Zealand – Templeton near Christchurch, Ashburton, Hawke's Bay and Waikato – as well as in Victoria and New South Wales in Australia.

It also invests in student and post-graduate research and development, in order to encourage the next generation of cropping researchers and farmers.