If there's a tree to fell on Sherida and Michael Cooper's Katikati property, Michael has just the machine for the job – a 1958 D9E Caterpillar bulldozer.


Weighing around 50 tonne, with the blade in place, the huge machine and its 335hp engine can tackle almost any task, not that there's much for it to do now.

Some time ago Michael finished removing unwanted trees to create a park-like area on the orchard and the big D9E now sits quietly under one of the remaining large trees. Just occasionally Michael takes it for a sedate trundle and then has to repair the 'damage' the tracks have done to the grass.

He believes the big machine was probably imported to New Zealand from America by the then Ministry of Works for building roads or even hydro stations. When Michael bought it in 2007, it was sitting in a paddock in Silverdale.

He's spent hours repairing parts of the machine and learning to drive it. "They reckon it takes five to six years to get the best out of an operator and out of one of these machines. There's a real art in driving it."

The reason the bulldozer is still in such good order is that D9s were built to operate 24 hours a day in harsh conditions. "I've seen them working on mines in New Guinea when the only time they stopped was to change operators, and re-fuel."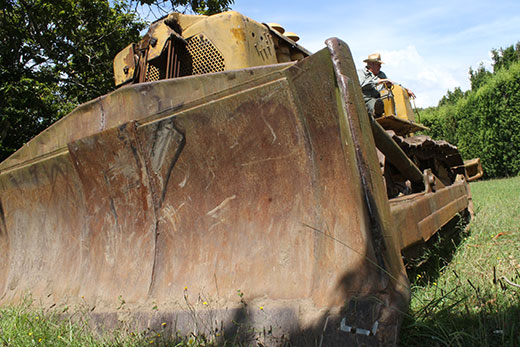 There's not much Michael Cooper can't move with his massive 1958 D9E Caterpillar bulldozer.

Electrical trade
The D9 is one of several Caterpillars and other veteran machinery Michael owns; there's a couple of classic cars too.

He's an electrician by trade but has always had a fascination with things mechanical. It was a Warwick Spirit Engine used to run a three-stand shearing plant which started his collection and he still has the 1912 machine which is in full working order.

"I came across this when I was an electrical apprentice, wiring up a shearing shed for electricity. These were pretty common in the days before electricity reached farms, and even after that, many farmers hung on to them because if there was a power cut they could keep shearing."

The engine sits in front of a 1942-1943 International Tractor. "I know it's around that date because they used to have German Bosch injectors but once war broke out with Germany, the name on the injectors was changed to International."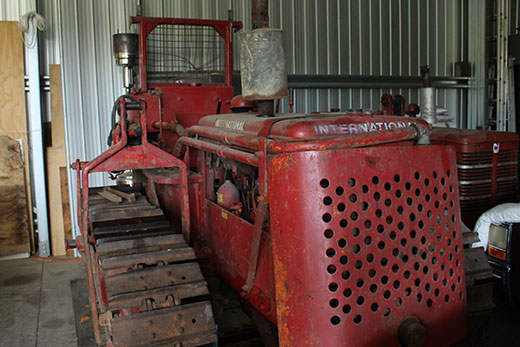 The name on the injectors of this 1942-43 International Tractor were changed from the German Bosch to International once World War II began.

Aircraft carrier
Nearby is another link with World War II – an all-electric Herbert Morris crane which was used on a British aircraft carrier. "These cranes were kept below-deck and brought up on an elevator when needed to load or off-load supplies. It's pretty handy if I want to lift an engine out of a vehicle I'm working on," says Michael.

Not far from the D9 is another crane built by the Hamilton company famous for its jet boats.

"Because of import costs it was highly expensive to bring in machinery from overseas so Hamilton would have imported just the tractor body and motor, without wheels or any fittings, and built the rest in New Zealand. Hamilton sold a lot of these cranes throughout the country."

There are two more Caterpillar tractors in a shed alongside the crane, awaiting Michael's attention.

Those machines, the D9, and many others, were enjoyed by visitors to the Blokes in Shed Ramble held on March 21 as a fundraiser for a new St John Ambulance station
in Katikati.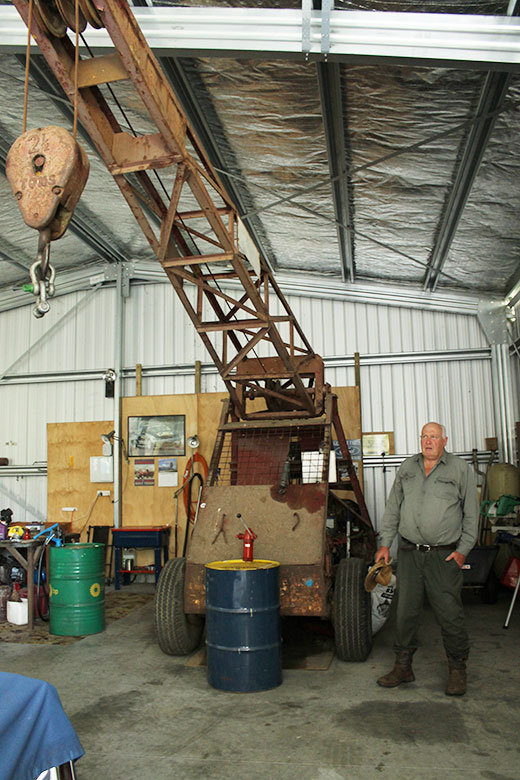 This all-electric Herbert Morris crane was used on a British aircraft carrier.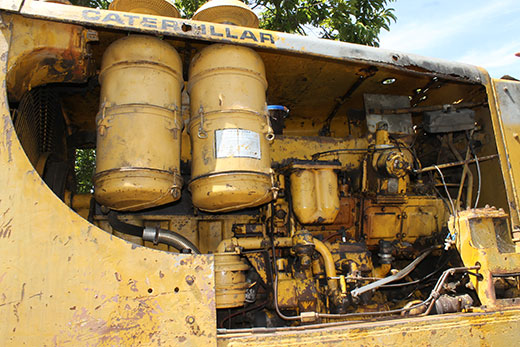 The D9 has a 335hp engine.