Soil-borne pathogens cause extensive losses to agricultural production globally, and impact farm productivity and pasture production.
AgResearch post-doctoral scientist Bryony Dignam is the lead author for a December 2021 research paper; Impacts of soil-borne disease on plant yield and farm profit in dairying soils.
AgResearch senior scientist Nigel Bell, a soil biologist specialising in nematodes, brings his expertise to the research too.
This research is based on collection of 30 farm soils, none of which had reported obvious root disease issues - 10 from each of the Waikato, Canterbury, and Southland.
Soil samples were split into two, and one half was microwave pasteurised to release potential soil biological constraints on plant productivity.
One hundred gram pots were used for each sample and planted with clover, plantain and perennial ryegrass, which are typical New Zealand pasture plants. They were watered and fed with soluble all-purpose food to ensure nutrients weren't limiting plant growth.
"In pasteurised samples, where disease pressure was present, there was an increase in plant growth compared to unpasteurised soil," Nigel says.
Plants were harvested after four weeks, with nematodes extracted from soil and root material examined by Plant Diagnostics Ltd for plant pathogenic fungi, oomycetes and bacteria.
"The results suggest that root microbial and nematode pathogens were more prevalent in the Waikato soils," Bryony says.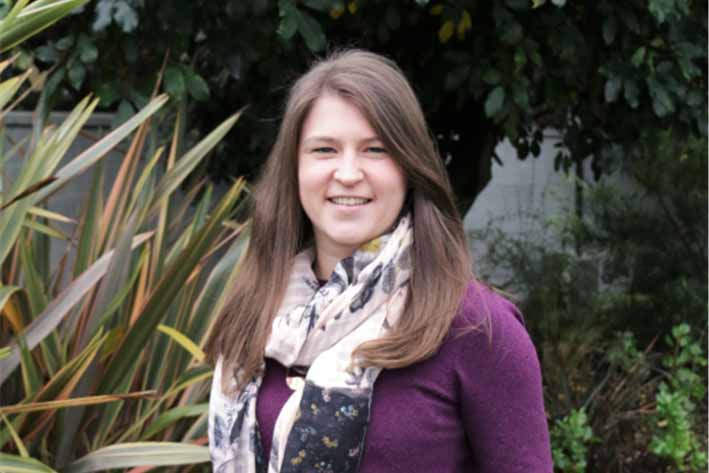 AgResearch post-doctoral scientist Bryony Dignam. Photo: Supplied
So far, the exact reason that the Waikato soils contained more fungal, oomycete and nematode pathogens is unknown. This will require further research.
"Climate could be a factor, as plant-feeding nematode populations were much larger in the warmer Waikato, and certain fungal pathogens also prefer warmer climates," Bryony says.
The Waikato has been under dairy for longer than Canterbury and Southland and these pasture specific pathogens may have had more time to build up.
Clover has shown both greater susceptibility and symptom severity due to soil-borne microbial pathogens and nematode root infections.
Research as to whether seasons change disease pressure and whether the pathogens are evenly distributed in the paddocks or in pockets is ongoing.
Relationships between soil chemical properties, particularly soil organic matter quality, and the presence of pathogens also need further investigation.
It may be an option to manipulate soil organic matter to promote beneficial soil microbes. In a healthy soil microbiome, beneficial microbes are stimulated to act in competition with or to directly inhibit soil-borne pathogens.
"We have already determined that the addition of certain organic amendments to soil evokes a change in disease levels in the soil," Bryony says.
Current research into soil organic matter and soil immune responses is being funded by AGMARDT and incorporated into a wider 'Microbiomes' research programme led by AgResearch.