Limousin cattle breeder Peta Lean was raised on a sheep and beef farm in the Catlins, where her parents Tom and Joy Lean had bought and developed a farm.
Her father used to experiment with different breeds outside the usual Hereford or Angus beef breeds that were favoured in the 1960s. He used shorthorns but had to take them through to two-year-olds himself, because in that era, no one was interested in them as weaners.
Peta and her husband Murray Kivell moved to the Waikato in 1995 to an eight hectare block outside Cambridge and later acquired another eight hectare run-off block.
"We were both working off-farm, but we explored several options on how to utilise our land, including nuts or vegetables."
They decided on cattle and researched a number of breeds before settling on the Limousin in 1997.
"Murray came to the conclusion that they were the most efficient beef breed, with a high meat to bone ratio, well known for their healthy, low fat content meat, and a reputation for being good feed converters."
Established breed
The Limousin breed originated in the rugged, granite country of central France, where the summers are hot and winters are severe.
The documented history of Limousin goes back more than 15,000 years to an area surrounding the French city of Limoges. Rough cave paintings there, showing the characteristics of the breed, have been discovered and carbon dated. The Limousin herd book was established in 1886.
The breed was introduced to New Zealand in 1973 and since then, a group of dedicated breeders have concentrated on breeding a Limousin that is more suited to New Zealand conditions.
"The classic French Limousin is quite a large, ponderous animal, that isn't suited to the New Zealand terrain and climate, so we've been favouring the more medium framed animal."
Kivlean developed their "signature" bovine as a medium framed, quiet, well fleshed, polled Limousin. With the use of selected overseas AI sires and good NZ bulls, their Limousins are mostly polled, and many are homozygous polled.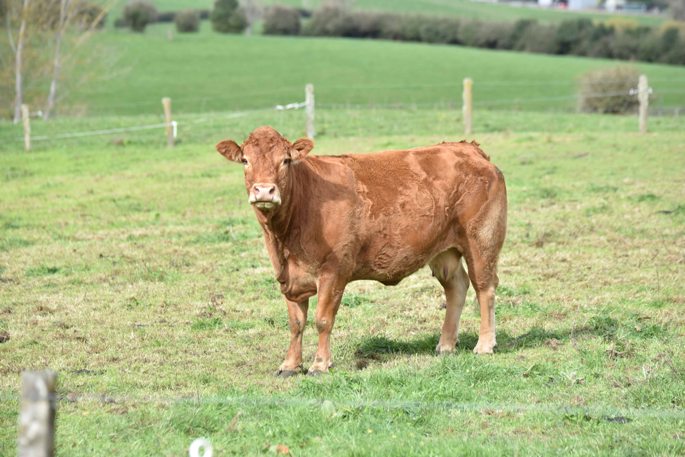 Ten-year-old Kivlean Hyacinth is one of Peta's favourite breeding cows. Photos: Catherine Fry
Breeding out undesired traits
Kivlean's first Limousins had UK genetics and were a "little" lively. American genetics were brought in to increase the calving ease and reduce maturity time to 15 months so calves go before summer droughts.
"We've spent 25 years not breeding with the silly ones. To have flighty animals of their size is dangerous and not a trait you want in the offspring."
A defining feature of a Limousin is the size of their rumps, "rumps are trumps" as Peta says. Her herd has the classic large muscular rump that extends down their back legs to the rear hock.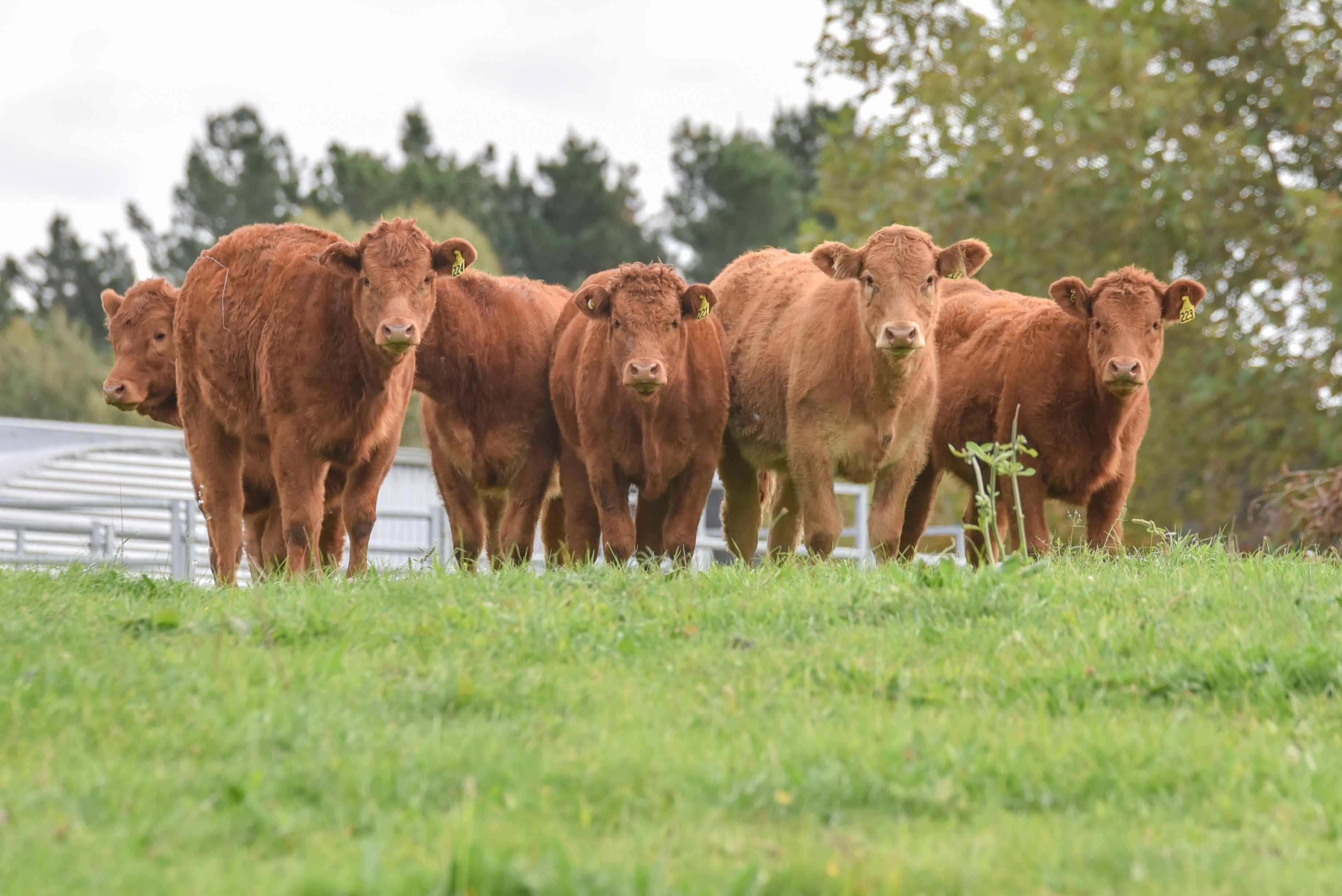 Peta favours the conformation and look of the taller, lighter coloured heifer, second in from the right.
"Kivlean has also focused on two beef characteristics; the EMA size and the IMF percentage."
The EMA (Eye Muscle Area) is the fillet steak area that runs down each side of their spine, and the IMF is Intra Muscular Fat. Limousin meat generally has low IMF, but the breed is now looking to add a little more IMF. To establish a figure for each of these, ultrasound scans are used.
Docility is also recorded and a rating of 1 is expected.
"I've used AI for my polling genetics and using homozygous polling usually results in polled offspring, even if the cow is horned."
Peta only breeds for the apricot and red colourings, although black Limousins are available.
Black Limousins can be sold to Angus breeders to add a bit more rump into their animals. The Lim-Flex is a recognised sub-breed, and this half Limousin/half Angus cross produces good meat.
Experimenting from year to year
Kivlean usually only buys in bulls that are proven or uses semen from proven sires for AI, with calving in both spring and autumn.
"Often while trying to breed in one desirable trait, you can inadvertently breed in another less desirable trait. This year we have a few calves that are a bit skittery and won't be used for breeding."
Peta has brought some French genetics in, liking the slightly taller, upright and more traditional shape, with the pale rings around their eyes.
"We were heading towards beasts that were too small and squat. I have this vision in my head of the character and look I want, and my goal is to produce the best Limousin that I can."
Peta is very involved with the New Zealand Limousin breeders. Over the years, she has been president of the North Island Limousin Breeders Inc., and treasurer and president of the Limousin Beef Breeders Society of New Zealand.
Since retiring in 2014, Peta is full-time on the farm and is kept very busy with her beloved cattle and Kivlean's dream of breeding that "perfect" Limousin.
www.limousin.co.nz or Faceboook : Kivlean Limousin Beef Cattle