When their three-year-old Jersey cow Posterity Man Susie sold in an online auction for $55,000 breeders Faye and Dick Post couldn't believe their eyes.
The couple are semi-retiring and were selling 260 cows from their milking herd and 86 heifers, before moving to a smaller run-off block.
With several of the cows reaching over $20,000, it is not luck that gave these animals their good genes. They are the result of decades of thoughtful breeding by Posterity Jerseys.
Dick Post was raised on the farm he owns today and has always had a deep passion for all things dairy farming, including becoming an AI technician at 17-years-old.
He bought the farm from his Dutch immigrant parents in 1984 and he and his wife Faye have been there ever since.
"It was quite an average farm when my parents had it, milking 125 Jersey cows on 48.8 hectares. Today it is 76 hectares and we milk 325 Jersey cows. We also added a 35 hectare run-off in 2015," Dick says.
Other than knowing he wanted to keep Jerseys, Dick says there was no real plan in place for developing the farm, he "flies by the seat of his pants" and is a "bit back to front like that".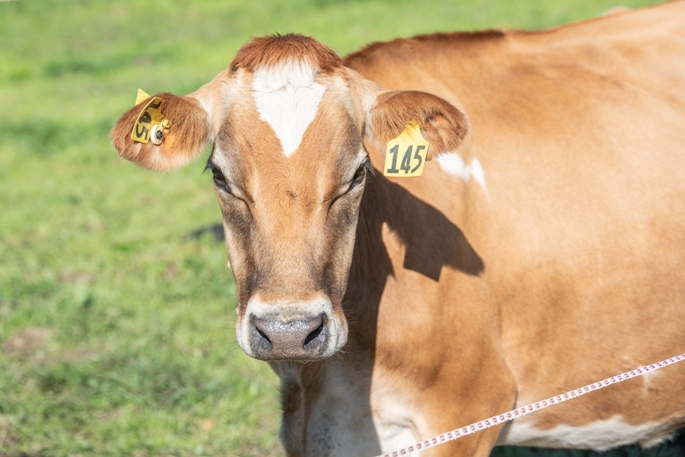 Posterity Man Susie is the result of many years of careful breeding by Faye and Dick Post. Photo: Catherine Fry
Breeding
"I do have high standards and using herd testing I started breeding to increase our milk litres as that increases the protein content. Jersey milk is high in fat content and lower in protein content."
They would put high BW bulls over lower cows and were always looking for a "powerful" cow.
"We wanted a bigger structure on our cows, not the more typical smaller Jersey build. I like them bigger."
Dick knows how to pick his sires and Posterity Jerseys also has sires out for semen collection with AI companies. He has performed all the AI on his own cows for 45 years.
As he reaches the end of his Jersey breeding days, Dick knows he must have done things right as his herd was averaging more than 400 kg/MS per cow before the dispersal sale.
His "golden cow", Posterity Man Susie, was one of the first group of heifers sired by Tironui Superman Et, a top Jersey bull with a BW of 524, and a BW Reliability of 90.
"Man Susie, who is in calf, has a 483 BW, Protein BV 23, Fat BV 54, Udder Conformation overall 8, and Dairy Conformation of 8. Those are really high numbers, so we really hit the jackpot with this breeding line."
Dick says that Superman's straws are selling like hot cakes after his herd sale.
Feed and supplements
Well-fed cows is a top priority for the Posts. The grass is an AR37 mix which has made a huge difference to the paddocks over the last 20 years.
"During seasons like this one, the black beetles are still in the soil, and the endophytes in the AR37 grass provide great protection against pests like that."
The farm is a mixture of Hamilton clay, Te Kowhai silt and Waihou sandy loam, which complement each other nicely through the different seasons.
About 40 hectares of grass supplement was made on-farm, 10 hectares of maize, and a summer crop of five hectares of chicory mix. The cows were fed the homegrown maize on a feed pad, alongside bought-in PK, and molasses added in the spring.
Alongside the paperwork and managing the staff, Faye looked after the calves, rearing them initially on herd colostrum, and then herd milk until they were ten weeks old. Once weaned, the calves went to the couple's 35 hectare run-off block and were fed meal, then PK and silage when grass is scarcer.
"You get 720 days to prepare a heifer for the milking herd, you need to look after them and feed them well. They can't survive on air and water."
Semi-retirement
The beautiful caramel coloured Man Susie and her mother Stride Susie are drying off before being trucked to their new home in Gore.
"They will have a pen to themselves to the South Island, complete with rubber matting, so they're travelling business class! Their new owner will meet them in Blenheim and take them by trailer to their new home."
The Posts are in the process of leaving their farm and moving to their run-off. They still have last year's calves there and have already booked straws for breeding with them this season as some are standout calves.
Dick and Faye dream about a motorhome or a caravan and taking their time exploring the South Island but that isn't compatible with farming, so a final sale next year is on the cards.
"We might stop next year, but we might not … we're still flying by the seat of our pants, so who knows what will happen!"