A unique partnership of food producers Synlait Milk and Danone, science provider AgResearch, and the Ministry of Primary Industries' (MPI) Sustainable Food and Fibre Futures fund, has launched a five-year project to study soil health.
10 participating farms across the country, including two in the Waikato, will be determining the impact of changes in soil health on production, farm resilience and the environment, including climate change.
The project will be comparing conventional and regenerative farming practices. Regenerative agriculture is a biodiversity-driven management system. It seeks to promote ecological synergies between components of the agroecosystem from the ground up, by building soil health, increasing plant and animal nutritive quality, reducing stresses on stock animals, and reducing dependence on agricultural chemicals.
Practices being targeted include hyper diverse pastures and reducing nitrogen application.
"Although regenerative farming goes far beyond minimising nitrogen fertilisers and sowing hyper diverse pastures, the project is being carried out on commercial farms - living and dynamic ecosystems with constantly changing parameters.
"It was necessary to simplify and focus on some key practices, to allow us to compare in a scientifically robust way," says the AgResearch scientist behind the project, Dr Nicole Schon.
Participating Waikato farm
Warren and Samantha Beck have been with Synlait since they moved to their current Te Awamutu farm in June 2019. They are Gold Plus certified suppliers under the Synlait Lead With Pride™ programme. They currently winter 300 A2 predominantly Jersey cows and were approached by Synlait to take part in the soil health project.
"We've previously farmed organically and were interested in developing the soil health on this property. So, we were willing to be part of something where the data gathered will help others and also be informative for us," Warren says.
"We're keen to look at all the options out there and adopt whichever sustainable practice works for our land," Samantha says.
The Becks have set aside two paddocks that are due for re-sowing, covering around 4 hectares in total. In autumn 2022, one paddock will be sown with annual rye grass and clover, and the other with a mix containing 17 species including herbs, legumes, and grasses.
Each paddock will be further split in two with an average Waikato nitrogen application used on one side and a low application of nitrogen on the other side.
Once the pasture is established, the paddocks will return to the grazing rotation for the Beck's herd.
"It will just be managed how we would all the other paddocks, apart from the residual level. They are quite precise for the project and slightly longer than usual," Samantha says.
"Our farm has areas that dry out very quickly and more clay-based areas which are wetter in the winter so it will be really interesting to see our farm's results," Warren says.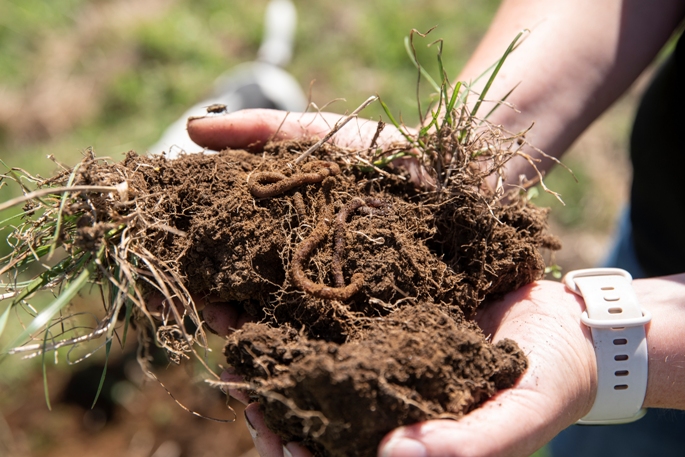 Worm abundant soil on the Beck's farm. Photo: Catherine Fry
Collecting the data
"There is a lot of anecdotal evidence around the impact of regenerative practices, and a lot of discussion on this topic. Part of the research will look at how regenerative practices impact soil health.
"We will gain a deeper understanding of the nature and extent of some regenerative management practices (ie lower synthetic nitrogen fertilisers and hyper diverse pasture species) on soil health which will help farmers as well as guiding future research questions," Dr Schon says.
Soil samples from these farms will be analyzed regularly by AgResearch scientists and results compared in terms of soil fertility, organic matter, physical properties, and biological activity. Modelling tools will also be used to understand the impact between changes in soil health and the farm's wider economic and environmental performance.
Synlait Milk, along with Danone share a similar vision of sustainability and both see an opportunity in backing the regenerative movement with more scientific evidence.
"A focus on soil health will be a key part of our industry's journey to keep making milk in the most sustainable way. We are proud to have six Synlait farmers working alongside their industry peers to innovate, experiment and lead our sector to explore the benefits of regenerative practices," says Synlait Director for Sustainability, Brand, Beverages and Cream, Hamish Reid.
Soils underpin New Zealand's food and fibre sector and managing for healthy soil improves the natural capacity of soil to sustain plants, animals and humans.
Comprehensive assessments of soil health on farms are not routinely performed in New Zealand, and so practical tools are needed to help farmers understand the detailed state of the soils and how best to manage them.
As well as on-farm production and performance, improved soil health is expected to benefit the wider environment with improved fresh water and nutrient outcomes, support for biodiversity, enhanced soil carbon storage and reduced greenhouse gas emissions.
The results of the project will be shared with the public in 2026, with the aim of supporting farmers looking at their soil health.