The distinctive whoosh of wings heralds the return of the little travellers, who left Blenhiem six hours ago.

"They've come in from the wrong direction, so we won't win this one," says Ron Simonsen, who is nonetheless pleased to see his pigeons glide down to their loft at Putaruru.

Ron Simonsen of Putaruru with one of his champion male racing pigeons.

He thinks his birds have probably over-shot the loft, perhaps travelling with a flock flying further north before peeling off for home.

It's 2pm on a Saturday afternoon and the birds were released at 8am near Blenheim – more than 415 kilometres away – as the pigeon flies – but more like 583km by road – which is how they got there.

As the first birds enter the loft, cooing in response to the welcome from within, the information on their leg bands is read by a scanner which records the bird's individual number, and time of arrival.

Later, when all 19 of Ron's birds are home, information from the scanner – a bit like a supermarket bar-code scanner – will be fed into the computer at the Waikato Pigeon Racing Federation's clubroom in Putaruru.

So too, in clubrooms around the North Island, will details be recorded of the more than 140 other birds racing that day.

The winner will be decided on a calculation which takes time and distance into account.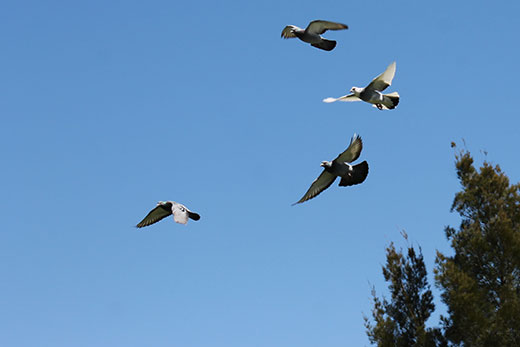 Coming home – Ray Simonsen's racing pigeons fly in from Blenheim.

Distance x time
"It's not necessarily the first bird home which wins. It's the one which has the highest average speed, worked out by distance divided by time," explains Ron, who began racing pigeons as a child at Whakatane.

A pigeon's average speed is 80km per hour in relatively still conditions, and more than 120 km per hour with favourable wind assistance.

How his birds find their way home from locations as remote as Stewart Island is still a mystery to Ron – and he's not alone. Scientists haven't figured it out either.

"The best theory seems to be they use magnetic fields, through a sort of compass in their head, to navigate."

How ever they do it, even after six decades of raising and racing pigeons, their homing instinct still impresses Ron.

"With today's technology, you don't have to be at the loft to record when the birds come home anymore, but I still get a thrill out of waiting and watching for them to come in."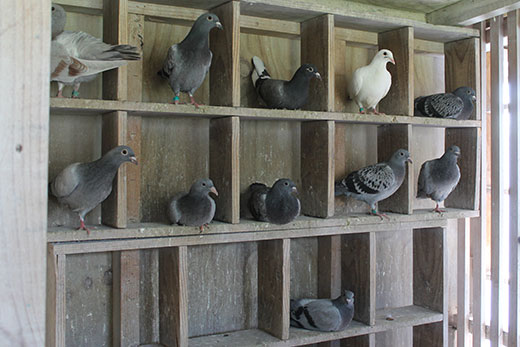 Pigeons inside Ray Simonsen's loft, where they happily return after racing flights.

Winning families
In the backyard loft of his Putaruru home Ron has 60 birds, and most of them race. He has a reputation among pigeon fanciers for the quality of the racing birds he breeds, which during the years have won a flock of trophies, including the 2005 North Island Long Distance Championship for the race from Invercargill. "I only breed from winners and winning families."

Every morning Ron lets his pigeons out for an exercise flight, while he cleans the loft. "Cleanliness of the loft is very important to the health of the birds."

So too is diet. Racing birds are fed a complex blend of nuts and grains; and breeding birds also receive a diet specific to their needs.

"It's almost impossible to raise a chick by hand. That's because pigeons produce 'pigeon milk' for their young in the first few weeks after hatching."

Pigeon crop milk, described as looking like pale yellow cottage cheese, is a suspension of protein rich and fat rich cells that detach from the lining of the crop, and is impossible to artificially replicate.

Racing pigeons are transported in special cages, on trucks operated by clubs, to locations throughout the country on a regular basis. At a designated time, and from a designated location, the birds are released to begin the race home.

Low-key
"They usually gather in a flock over the release site at first, before heading off."

Pigeon racing is a low-key sport in New Zealand but it involves dozens of competitors and hundreds of birds throughout the country.

Pigeon Racing New Zealand Incorporated is the New Zealand national body of the racing pigeon fraternity, and has 36 affiliated member clubs and three affiliated federations.

PRNZ provides support and guidance in decision making with regards to animal welfare matters, to ensure all members adhere to good husbandry practices in all aspects of the sport. It also provides advocacy for racing pigeon enthusiasts and clubs in dealings with local body and central government, and the general public.

For racing purposes, each loft is accurately surveyed so the distance covered by each bird can be calculated to an accuracy of plus or minus one metre. The shortest races are generally about 100km and the longest up to 1200km.

To find out more about pigeon racing, go to the Pigeon Racing New Zealand Incorporated website: www.prnz.org.nz