You don't often see schnauzers on an agility course, border collies or heading dogs are generally the canine of choice for such activities.
But on Shelley Clark's Whakamarama property you'll find her two schnauzers, Gucci and Prada, whipping around her course with ease.
On occasion she has been told to "get a real dog" by other agility competitors but she finds that "a little bit offensive".
"Once you have a schnauzer you won't go back."
Building a bond
Shelley has had schnauzers for more than 16 years and loves their loyalty, quirkiness, sense of humour and protective nature.
Gucci is a miniature schnauzer and Prada is a standard.
Shelley has set up an agility area on her four acre Whakamarama property. In the past she has grazed belted Galloway cows but they had no respect for electric fences.
Now she grazes her neighbours' sheep or three young cows when the grass needs maintaining and has four chooks.
She has owned the property for around four years and loves her neighbours who help her out whenever she needs it.
"You can't live rurally without great neighbours and a good community around you."
Shelley got into dog agility at the same time as she got her first schnauzer, Tully. She took Tully to classes at the Tauranga Dog Training Club because Shelley rehomed her, so it was suggested they try agility to further their bond.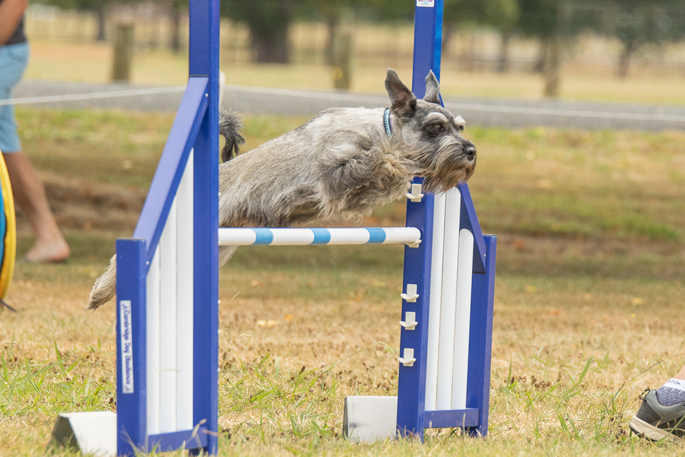 Prada at a recent competition. Photo: K Mountain Pics.
At first Shelley did agility for fun then moved on to competing, she started to help with the club's foundation classes then began taking classes on her own.
She has been at the Tauranga Dog Training Club since 2005 and teaches a weekly class.
Teaching pups and people
Training dogs is more about teaching people how to train rather than training the dog itself, says Shelley.
"People don't realise that it's actually quite hard because you've got to do homework. You've got to be consistent every day.
"It's a little bit harder than just coming to a class once a week and expecting the dog to learn it.
"Training the dog is probably easier than training the person," she laughs.
Agility training involves teaching dogs to navigate obstacles off lead with accuracy and speed. Some common obstacles are tunnels, dog walks, jumps and weave poles.
When getting into agility it's important to do it through a club or with a trainer because they understand a dog's structure and will do things safely, adds Shelley.
The Tauranga Dog Training club started 45 years ago and has around 30 members that compete in agility.
While Prada is often more interested in looking for rabbits at their home agility course and Gucci prefers cuddles with residents at the rest home where Shelley works, she has worked hard with them and as they clear each obstacle on command – you wouldn't think they have other priorities.
When competing a dog must complete a course of 16 to 25 obstacles. Points are lost if a dog doesn't go over an obstacle correctly or refuses and rounds are timed and judged. The fastest clear round wins.
All training requires repetition and rewards. For most agility dogs the ultimate reward is a game of tug, but Gucci and Prada prefer food.
"Mine work for food, they have a higher goal."
Shelley says training is good for bonding, exercise and mental stimulation for dogs.
"It's really good for mental stimulation, especially for high energy dogs, it can tire them out just as much as going to the beach."
If you get them thinking they'll tire quickly and settle quicker, she says.
Shelley is keen to promote the sport. To find a local club, visit www.dogagility.org.nz.