"A mix of terror and exhilaration". That's how Wayne Knuiman describes riding a horse along the beach.
"It's still a buzz, and I've been doing it for 40 years," says Wayne. "You're holding onto 600kg of pure muscle as it runs up to 40km/hr – it's a powerful feeling."
Wayne is a third generation horse rider – "and at least the third generation in my family to own more than 20 horses at one time".
His wife, Penny Knuiman, also grew up loving and riding horses. And so it seems fitting that they started WildCoast Ruapuke in 1999, a horse trekking business where riders trail through the bush on the couple's property before fulfilling the classic New Zealand image of riding a horse down a black sand beach – in this case, Ruapuke Beach.
With picturesque views and plenty of room for their 15 horses to roam freely in a large paddock, the couple's 120 acre property, half an hour's drive from Raglan, is the perfect place for WildCoast.
The couple built the business from the ground up. "We lived in a caravan for the first year here, when our oldest child, River, was eight weeks old," says Penny.
Wayne emphasises that the caravan was not at all flash – but Penny reflects on it fondly. "We were under the stars every night, it was the best."
Wayne, previously a builder, built the house where their three kids, River, 25, Ziggy, 21 and Star, 12, have grown up. Unsurprisingly, they love riding horses too.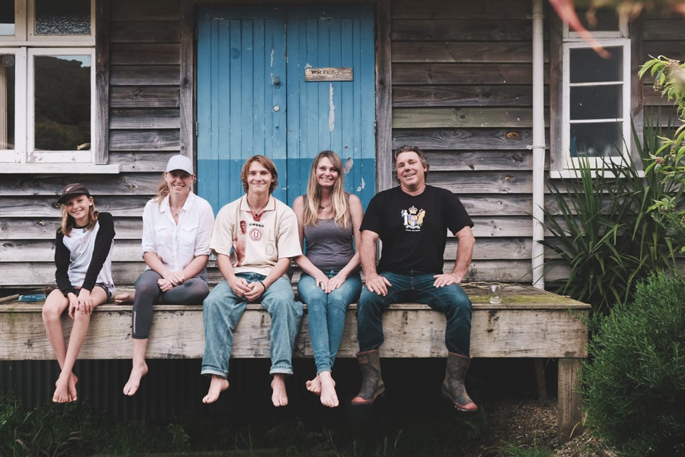 Family affair
Along with Wayne, River is WildCoast's main guide, and is close to becoming a qualified equine physiotherapist. Before starting his art and clothing business, Ziggy did his time as a guide, too.
Throughout the year, WildCoast take on a vet student who needs work experience as a third guide. "We love having students here. They're keen and incredibly helpful, and we like that we can help them gain experience in return."
Despite the significant hit business has taken due to Covid-19, Penny and Wayne are grateful for Kiwis' support.
"Before Covid more than 80 per cent of our customers were from overseas – particularly people from Europe, who regularly ride their own horses back home," says Wayne.
"Our Kiwi riders are always keen to learn, even if it's their first time, and will happily ride in rain or shine."
Currently, Wayne says Kiwis have a unique opportunity to enjoy their own backyard – "and it's great to see them do so".
WildCoast takes people of any riding ability "as long as they're keen". The Knuimans say the art is actually matching the horse to the rider.
"We get a bit of information from people before they get here regarding their experience, but once they arrive it's like speed dating – we have to match the personality of the horse to the rider."
Penny says it's also a matter of gauging how the horse is feeling on a particular day. "It's hard to explain, but you can tell if they're not feeling it. We have to gauge it and make sure people are matched with the horse that will give them the best experience."
While the Knuiman family love their horses as pets, they're certainly workhorses – riding three-six hours every day continuing into their early 20s. Wayne says the health and fitness of station bred horses makes them the best for the job.
Living off-grid
The Knuimans are also committed to regenerating the land and being environmentally-conscious in how they use it.
Their home is completely off the grid, run by a combination of solar and windmill energy. WildCoast also offer two scenic accommodation cabins, which are completely solar-powered.
"We wanted to create a place for people to stay that feels like a real retreat," says Penny.
Working as a fashion model from when she left school up until a few years ago, Penny can certainly relate to needing a hideaway.
"I travelled overseas a lot in the early days. While living here, I did jobs in the bustle of Auckland, and got to come home to the peace and quiet, which suits me perfectly."
After years of planting hundreds of trees, 20ha of the property is now a reserve.
"We've fenced about one-quarter of the land where we've planted, and now it regenerates itself.
"Breeding Hereford cattle used to be our main source of income, but we continually reduce cattle numbers and dedicate more land to planting. Even though we're on good volcanic soil, our land is steep and windy, so it's not super high producing farmland anyway.
"We want to protect this place for the future – it's very special to us."