When it comes to running a planet-friendly business, Raglan Food Co leave no stone – or coconut – unturned.
The business, which makes dairy-free coconut yoghurt, was started by couple Seb Walter and Tesh Randall in 2014.
Since then they've taken three trips to Indonesia to see where their main ingredient is sourced from. "When importing supplies from overseas, it's impossible to tell what a supplier's practices are like, so we decided to see for ourselves," says Tesh.
During the first trip to Indonesia in 2017, Seb learned that locals from throughout the islands, mainly Java and Sumatra, have their own organic coconuts collected from their backyards and delivered to the supplier.
This trip also allowed the couple, who call themselves 'Mr and Mrs Coconut', to work out their carbon offsets.
"Our supplier told us that with our current yoghurt production per year, we're supporting around 40,000 coconut trees that sequester more than 20,000 tonnes of carbon per year.
"We also take into account the 94 tonnes of carbon created by the sea freight of getting the coconut cream over here."
Raglan Food Co is Carbon Zero Certified by Toitu Envirocare, a government-owned environmental certification company.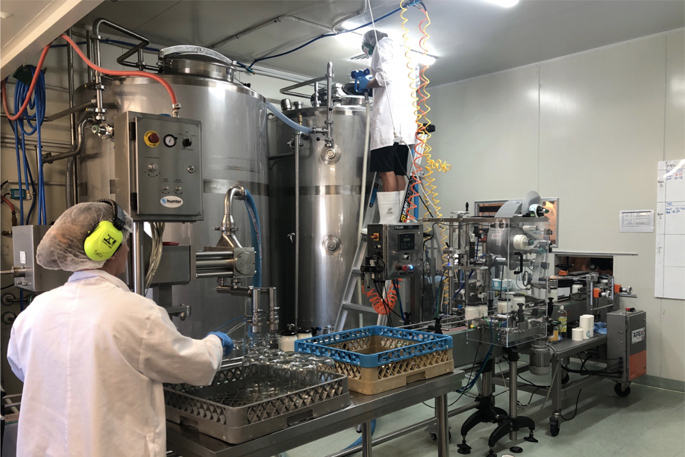 Their certification means the business pays for any carbon they create as part of their operations. This carbon total doesn't include any trees the business doesn't own, including the coconut trees in Indonesia.
"Through the certification programme, we've supported native forestry projects in Puhoi and Kurinui," says Tesh. "We do planting days with our team, and have 320 native trees planted around the new factory we're building in Raglan.
"People can sign up to do their own beach cleans through our website, and we'll send them free yoghurt. Through this, we've picked up more than 377,000 pieces of rubbish.
"All of our fruit is sourced from NZ suppliers, and is all organic except for our plums and boysenberries – we're still working on those ones."
Tesh says putting the environment first has always been a business priority. "When we started, we were the only yoghurt company who used glass jars. I had to really convince the freight companies to let us use them.
"We know the state that the planet is in, so putting the environment at the forefront of what we do, is the least we can do."
Tesh and Seb also make sure they look after their 30 workers through a variety of schemes – they're living wage certified, and have a wage cap limit that ensures the highest paid person earns no more than three times the lowest paid.
All of this costs money – but Tesh says it's doable. "If you're a business that can commit to putting profit aside, rather than pocketing it, it's financially possible to have these things in place – even in a small business like ours."
Tesh says the yoghurt-making business actually "happened by accident". "We taught ourselves how to make dairy-free yoghurt after Seb was becoming intolerant.
"One day I made too much and asked people on the local Raglan Noticeboard Facebook page if they'd like some, and we received more than 60 replies. Now, we're stocked in more than 600 stores."
Prioritising the business, planet and staff has put renovating their house and getting married on hold – but Tesh and Seb have no regrets.
"I'm proud of us – we've created a delicious product, and in the processes, a business we are ethically aligned with."