In 2017 empty-nesters Beth and Paul McVerry downsized their house and upsized their land by moving from a lifestyle property in Karapiro, to a larger one in Arapuni. Their rare breeds farm, Cherrybank Stud, was moved there too.
Cherrybank Stud was started in 2008, after Paul mentioned that they should "get rid of their sheep and get something more interesting".
"I was quite interested in American Miniature Mediterranean Donkeys," says Beth.
The American prefix refers to the fact that they were imported from the United States, not their origin. These donkeys are registered as a rare breed, and there was a wait before they were able to get their first jenny (female), Clovercrest Sweet Lolita.
"You can't have just one donkey, so we had to get two, and it grew quickly from there."
Donkeys pair up, even within herds, and while one sleeps soundly on the ground, the other stands over them napping.
"If you ever hear a donkey braying, it is probably being kept alone or with other farm animals, and is stressed and unhappy without a donkey companion," says Beth.
Cherrybank Stud's nine jennys and three jacks (males) now live on the 20 acre block in Arapuni. Beth has an 18-year-old jack called Splendors Nestle Special Dark, a United States import, who has sired many award winning AMMDs.
Gene pool
Two years ago, she imported another jack from Tasmania, a beautiful red called Ecclestone Valley Prince Harry.
Beth is president of the Donkey and Mule Society of New Zealand, and along with the other 200 members, feels a responsibility of keeping the New Zealand gene pool as varied as possible by importing live animals from good bloodlines overseas.
To be registered, a fully mature, three-year-old AMMD must not be more than 36 inches at the withers.
AMMDs come in all shades of white, brown, grey, sorrel and even black. They all have the characteristic cross on their backs, except pure white ones. Some have light bellies and muzzles, and some are dark.
"As they originate from the warm Mediterranean islands, they don't have waterproof coats, and once soaked, can develop pneumonia," says Beth.
"They always need access to shelter and you'll see them heading in as soon as it looks like rain."
New Zealand pasture isn't rocky and rough, so AMMDs need their hooves trimming regularly, and a hard pad to stand on if it gets too muddy underfoot. They are a browsing animal, happy to clear paddocks after cattle, eating the coarser plant matter.
"We give them hay and haylage for roughage, and access to a mineral salt lick," says Beth. "Apart from that they are fairly easy to look after, and are very gentle, affectionate animals, who love human contact."
Galloways
Cherrybank Stud also breeds Galloway cattle, with Beth concentrating on producing riggit markings. They are named after the Scottish expression for the white dorsal stripe that characterises them.
"We originally got them to eat the grass, because their smaller frames cope with hills, and they are great mothers that have little thriving calves."
Beth started with white Galloways, but when she leased a bull with the riggit colouring, further investigation confirmed that this was a rare Galloway colouring. References to riggits date back to 1862 in the United Kingdom, nearly a century before the more well-known Galloway colours.
Cherrybank Galloways are registered in the New Zealand herd book of the Riggit Galloway Cattle Society, and this runs alongside the UK herd book.
In winter the Galloways are shaggy, with their double hair coats. They are naturally polled, and good converters of rough pasture. "They are popular with dairy farmers for beef production and have lovely marbled meat," says Beth.
Riggits
With more NZ breeders coming on board, riggits are in demand. Cherrybank's stunning riggit bull, Riland Ranger, has sired many outstanding calves. "It's never guaranteed what you're going to get, but as I breed more generations I've learnt that a white colour riggit put to a solid dark colour is more likely to produce a riggit, than breeding with two riggits.
"However, a solid colour and a riggit may also produce a riggit."
Beth believes all colours are valuable for saving the Galloway breed, but has learnt that the genetics for a riggit get stronger through subsequent generations, and she's always delighted when her herd produces one.
Along with the dorsal stripe, a riggit may have a white diamond on the rump, white under the keel, and white tears under the eyes. The main body solid colour can be red, dun or black, with roaning on the face or legs.
She has introduced a younger bull to the herd, to serve Riland Ranger's offspring. "I'm really pleased with how my breeding programme is coming along, Cherrybank is right up there in the world for riggit breeding." Find out more about Cherrybank Stud is on Facebook.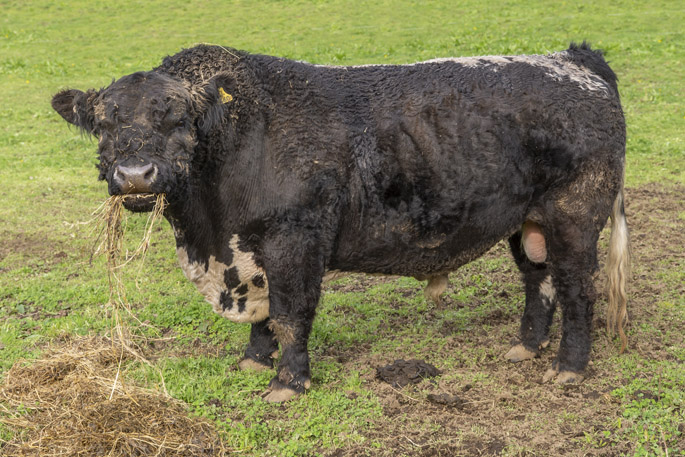 Stud bull, Riland Ranger, with his classic riggit markings.