Takapoto Estate's farming manager Sam Le Cren was delighted to accept a position that aligned with his views on biological farming. Since 2017 he's been farming to those values, and running the Angus stud that benefits from them.
The Takapoto home farm is around 130 hectares of ash over clay soils, which change to pumice and sand where the estate borders Lake Karapiro. A further 280ha of neighbouring land is also leased, wintering 6200 stock units in total. The home farm had been converted from dairy to drystock in 2012.
"We run around 60 commercial Angus cows, 230 rising one and 650 rising two dairy grazers on the lease block," says Sam.
"The pedigree Angus are on the home farm, with approximately 100 registered and 20 commercial cows, 86 rising two heifers with 50 in-calf, 40 rising two finishing steers, 40 beef grazers, and six sire bulls. Plus, 50 yearling bulls are sold at the end of September in an on-farm auction.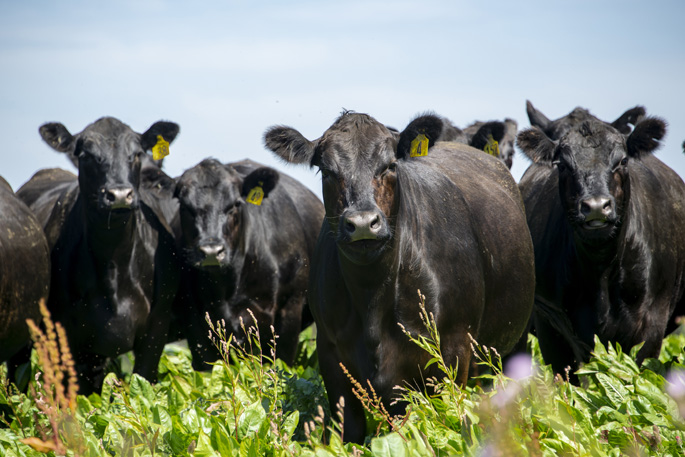 "We have stringent biosecurity measures on the farm to keep dairy and Angus cattle separate, and are confident about the source of our dairy grazers."
Sam uses 150 Coopworth cross sheep to "graze the areas that the cattle can't go".
With 12ha of deer-fenced paddocks, the farm runs around 60 European Red Deer, which is quite heavy stocking, but Sam hopes to expand the deer-fenced area in the future.
Where it all starts
"Biological farming is all about the soil, that's where it all starts and that drives production," says Sam.
"Good soil health promotes healthy pastures, which in turn gives healthy well-nourished animals."
Sam uses a diverse pasture mix of around seven different species; a complimentary mix of herbs, grasses and legumes.
"Each species draws different nutrients from the soil; and when offered variety an animal will pick and choose, instinctively knowing what their body needs."
Current pasture mixes include red, white and annual clovers; chicory and plantain; fescue, rye, brome and cocksfoot. The chicory, plantain, cocksfoot and brome perform better under drought conditions.
Cows and sheep will happily eat dock at times when they feel they need it.
Sam doesn't broadacre spray routinely, preferring to pull out or spot spray whenever possible. After the cows have been through a paddock, if the thistles and dock are particularly bad they are treated with a weedwiper towed at thistle height.
Recent issues with stinking mayweed persisting in some paddocks have required boom spraying.
"We can't compromise the whole farm and the good work we have put in with the soils."
Soil testing and fertilisers
Sam works closely with Russell Snodgrass from the fertiliser company Abron, digging holes to look at the soil profile, root mass and health, soil porosity, and worm population. Yearly soil testing is carried out, coupled with herbage testing of the legumes and grasses.
"The herbage testing provides a useful analysis of what is actually being accessed from the soil, compared to what is in the soil."
An appropriate fertiliser blend is made up each year. It normally contains Calci life (composted humic acid and biological stimulants), lime, magnesium, potassium, selenium, cobalt and ag salt. The latter four are general deficiencies in New Zealand soils.
"I also provide salt licks for the animals," says Sam.
The farm produces 1200 large rounds of baleage and 200 large rounds of hay. "The baleage is lower in protein than most and digests slower, keeping the animal fuller longer.
"The hay is digested even slower and is used for calving cows, as it's warm and dry when eaten."
Summer crops include 20ha of chicory, and next year Sam is planning a diverse mixed species crop. In winter 10ha of a mixed species is grown.
The Angus herd is healthy, well-conditioned, and content. "If the feed is good, and the animal is healthy and content, you don't get any major health issues."
Sam drenches when needed up to one-year-old, and no adult animals are drenched.
"Going forward I'm looking to breed Angus cattle that are above breed average in all traits, and structurally sound."
The long term goal for the Angus herd is to have 200 registered cows. As the herd builds, some of the dairy grazers will be phased out.
Sam plans to extend the biological farming methods to the lease block, and is looking forward to seeing the results.