Flexibility, strength, grace and coordination are among the skills of a competent shearer and all were on display in a Katikati woolshed in August when two women stepped up to the boards.
At stand number one was Megan Wilson, who has been shearing on and off for 40 years. At stand number two, representing the next generation, was 22-year-old Jess Lusby. Wool handler in the all-female gang in the Pukekauri shed was Jess' sister, 21-year-old Abby Lusby, who is also keen to learn more about shearing.
The trio worked their way calmly to remove the wool from 71 hoggets, some of which were a little skittish. Handling animals, which at 60kg-75kg weigh almost as much or even more than herself is among the skills Jess is learning, under the mentorship of Megan and of her father, well-known Katikati shearer John Lusby.
"You need core strength and good hand-eye coordination. The agile response and ability to manage the movement of the animal to present the wool to the moving, flowing hand-piece takes a few seasons shearing to learn," says Megan.
"It's a good thing we are just doing a few sheep today. In a shearing team situation, the expectation to shear numbers in a short amount of time to reduce cost is the added pressure," says Megan.
She has an affinity with sheep and wool. "Shearing is not just about removing wool; it's cultural too with roots which go back thousands of years.
"Women have always been part of the shearing culture, including the industry roles of wool-handling, wool-classing, judging competitions, wool marketing and production, intermingled with crafts handed down through the generations within the culture of spinning, weaving and knitting. "Today more and more women are also shearing professionally."
Next generation
That's something which pleases Megan and she's glad the next generation, including Jess and Abby, will find it a little easier to be accepted on the shearing boards.
"I think women like myself and others of my generation, who waited for a turn to shear, often at smoko, and felt they had to prove they could shear as well as men, have paved the way for this generation. I think we also influenced our male counterparts to see their daughters as shearers too."
Rick Burke of Pukekauri Farms is keen to encourage Jess' interest in shearing. "Shearers can earn good money and women bring a calmness to the shed, which the animals sense."
Wool is a product Megan believes is undervalued, evidenced by the bales of unsold wool filling the Pukekauri shed. Rick says prices are so low it's not worth selling the wool and removing it is for the health and comfort of the sheep.
To Megan, who is a member of New Zealand shearing's well-known Wilson family, the decline in the wool industry and its replacement in garments, furnishing and carpets by synthetics is disappointing. She believes in the quality of the natural, renewable fibre, which comes from animals that are easier on the landscape than many other livestock.
Shepherding career
Jess is grateful for Megan's mentoring and that of her father. She sees the shearing skills as an advantage to her shepherding career. As well as learning on the job at Pukekauri Farm, She's also completing Agri ITO qualifications in animal husbandry and farm management. "I also have my own heading dog 'Gem', which I am training and hope to build a team of working dogs."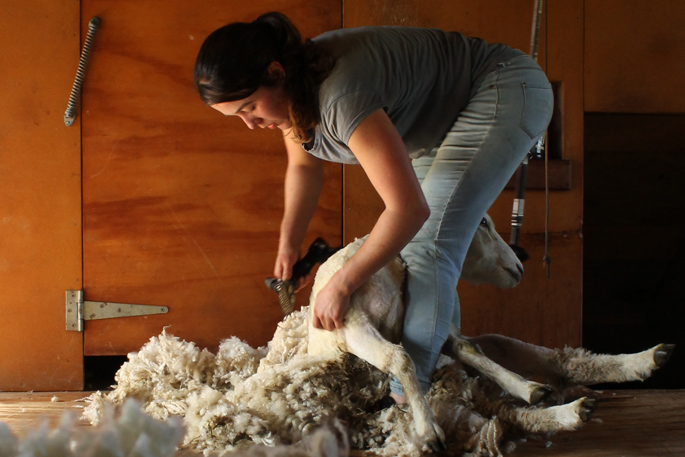 Shepherd 22-year-old Jess Lusby is keen to further hone her shearing skills.
Abby loves working with animals but it's horses, rather than sheep, which she hopes will be part of her career path. She also works as a gardener, and had previously met Megan, who is a qualified landscape gardener, on projects.
Megan is no stranger to the farm. As owner of the company Earth Canvas Limited, she helped Pukekauri Farms owners John and Rick Burke with environmental plantings. She has also landscaped John's urban garden at Mount Maunganui.
Alongside landscape design, shearing has played a crucial role in her life, helping Megan fund the studies which led to her landscape qualifications including formal education from universities, technical institutes and waananga.
However, awareness of changes and response to those in the natural world, is, she says, in her experience, the greatest university.
Her ancestors, both Maori and European, have a history of not only shearing, but also planting, protecting and nurturing the environment so it's hardly surprising she has followed the same path.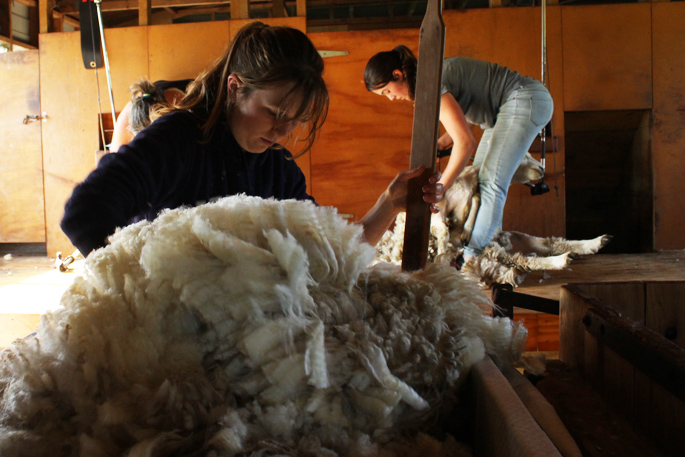 Wool handler in the all-female gang in the Pukekauri shed was 21-year-old Abby Lusby.