Ian Brennan and his wife Trisha Wren are giving more than half of their 88 hectares of land, called Cassie's Farm, back to nature.
Since moving to the hilly Te Miro property in 2005, they've planted 70,000 trees on 30ha.
Their last big planting will take place next year, bringing the total to 80,000 trees covering around 35ha. Once they fill in the gaps, more than half of their land will be converted into a native forest.
Why? Ian wants Cassie's Farm to be an example of Continuous Cover Forestry – also known as CFF – where the forest canopy is maintained and trees are individually felled as opposed to clear felling, allowing for the ecosystems below to thrive naturally.
"CCF has been practiced in Europe for centuries, and has been mentioned in New Zealand media more frequently in relation to the Government's One Billion Trees programme," says Ian.
"Despite this, I don't think many people in NZ have a clear idea about what it means. The word 'continuous' doesn't refer to the size of the forest – it means the forest continues into the future.
"Planting native forest around and between our blocks of QEII covenanted bush will increase the habitat value of both planted and natural stands.
Wildlife corridors
"The forestry plantings will provide wildlife corridors between our existing bush fragments. In return, plant and animal species from the QEII blocks will spread into the planted areas, providing the species required for a fully functioning forest ecosystem."
For income, Trisha runs an online animal communication business, they rent out a converted woolshed as a farm stay, and Ian grazes dairy heifers.
Retiring more steep gullies every year into native forest plantings means that eventually, only their flattest land will be grazed.
"During our second summer here, I was spraying thistles at the bottom of a steep gully when a large clod of earth flew down the hill, bouncing and breaking as it neared the stream at the bottom.
"I looked up to see heifers dislodging more soil as they jostled each other on the hillside above me. "That's when I decided to plant all of our steep land into native forest," says Ian.
Such a largescale project doesn't come cheap, and has been funded by several grants.
"Waikato Regional Council has been a major sponsor, along with Trees That Count, and more recently Te Uru Rakau.
"Council has been particularly supportive – they understand that CCF can transform our upper catchments, generating downstream benefits for everyone."
Ian and Trisha invest a significant amount of their own money into building tracks around the farm.
"Unlike pine forestry, where access roads are usually built at harvest time and paid for by the first harvest, there is no clear felling allowed under CCF. Therefore, we need to build them before we plant.
"The tracks also allow for easy forest maintenance, pest control, and eventually tours for people interested in native forest restoration, CCF, or who simply want to go off-road above Cambridge.
"As a farmer and conservationist, I want to maximise value from every dollar spent."
In 2008 Ian discovered Tane's Tree Trust, and is now a trustee. "For the past 20 years, it's been the only organisation in NZ entirely dedicated to scientific research of native reforestation, with the potential for sustainable harvest in future using CCF management.
Premium product
"We have numerous experimental plots spread throughout our plantings. We use GPS to gather data from the plots for the national growth database, which is managed by Tane's Tree Trust."
Ian says that NZ forestry has been focussed on monocultures and clear felling for so long that the potential for managing planted native forests has been almost entirely overlooked.
"While a native forest can cost 10 times more to establish than pine, timbers like Kauri and Totara are a premium product worth much more. It's not just about beautifying the land."
Ian and Trisha are committed to an incredibly long game – a timber harvest isn't expected until around 2080.
"We hope we can encourage people who are wondering what to do with their land to plant native trees, and create something that provides sustainable income for future generations."
For more information on CCF, email: office@tanestrees.org.nz
For Cassie's Farm tour inquiries, email Ian: ianatcassiesfarm@gmail.com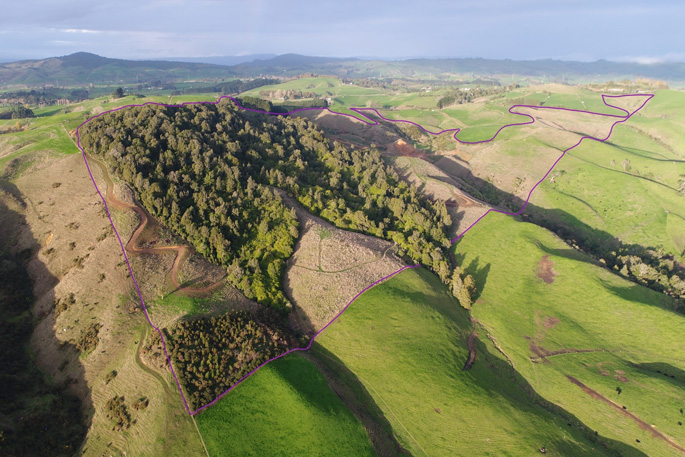 A drone shot of part of the farm. Most of the area within the purple line has been planted. Photo: Ian Brennan.