If Alan Law was told a year ago he could cut synthetic nitrogen use by 60 per cent on his Thornton dairy farm – during a drought – and see pasture growth continue, clover levels multiply and milk production remain steady – he'd have thought it was a joke.
But this is exactly what he and sons Brandon and Cameron have achieved on their 260ha milking platform by moving from a chemical farming system to a biological one.
More than 70 farmers and rural professionals visited Alan's farm last month as he shared his family's journey of turning to a Total Replacement Therapy programme to farm smarter into the future.
Alan called on his brother David Law, a biological farming consultant, last September after becoming disillusioned with the negative perception towards Kiwi farmers on freshwater quality impacts and farming practices.
Then last spring the Government released its discussion document on a proposed new National Policy Statement for Freshwater Management and National Environmental Standards for Freshwater.
"Like many fellow farmers, this paper really upset us. If I didn't have sons I would've probably felt like giving up farming."
So Alan wanted to mitigate any negative environmental impacts their farming system was having. "I wanted to make changes to our system – but on our terms. We were fairly fortunate our soils were in a reasonably good starting place but were aware that our nitrogen use was high."
He asked David's team of biological experts to put a proposal forward to demonstrate Total Replacement Therapy on his family's 89ha home farm, Wyndlea. When he met with David and Kiwi Fertiliser's Ron McLean and Gerry Strange the fertiliser budget for the season had already been set. "The proposal's costing came in under budget, so we sat down and made some stringent KPIs," says Alan.
"To me, because we've got high debt, it was absolutely paramount the transition period was smooth and N applications were based on need. We didn't want any reduction in grass growth and certainly no negative financial impact on the business."
The Law dairying operation is 250ha in total, with 66ha leased, milking 850 cows across three farms. The set-up produces 1600kgms/ha – or 500kgms/cow.
The Law family has owned Wyndlea for 100 years. Cameron contract milks Wyndlea, while Brandon contract milks the Oriini farm. "Our philosophy has always been that the land will go into the next generation in a far better condition," says Alan.
Historically, Alan used a lot of RPR with less acidic fertiliser and a total of 180 units of synthetic N annually. "As we grew our business, we were using more and more Nitrogen. Every six weeks the truck would come in and apply 30 units of N following the cows."
In an interest to improve, Alan had attended two Albrecht-Kinsey seminars in the past. "I was intrigued by the concept but was nervous to change my system which is probably quite common among farmers."
Part of the Total Replacement Therapy Program included fertiliser recommendations based on Perry Lab audits. The Albrecht/ Kinsey system of soil fertility forms an integral part of the program and is based on the Perry Lab audit.
The success of the program and the speed of change is a result of accurate soil balancing, then introduction and enhancement of soil biology as a liquid spray application. "Spraying is not replacing solid fertiliser at all. The farm has just had its fourth liquid biological application – nine months on, we have applied 70 units of synthetic nitrogen during 12 months, down from 180 units.
"That equates to a reduction of 21 tonnes of urea, which is unbelievable," says Alan.
Summer management was also altered and will evolve as the Total Replacement Therapy Program eight-step method progresses.
Chicory was sown mid-October with first grazing December 7 – with seven rotations until March. The feed rate was 4kgDM/cow/day. "The cows did well off it and we found it was a brilliant summer management tool, especially in the dry."
Instead of continuing the chicory as a crop, this autumn the whole farm was oversowed with a seed mix of chicory and three clovers to effectively have a crop in every paddock by developing a longer rotation over summer.
One key measurement of Alan's KPIs was grass growth – and doing visual soil assessment on soil structure. "Today, it's amazing how soil porosity has changed," says Alan.
"Plant root depth is measured, worm population, pasture composition; and we do annual soil and herbage tests. So we're really monitoring what's happening and looking at trends."
Today, clover levels are 70 per cent in the pasture, up from 10 per cent when they began. "And further reductions of synthetic nitrogen are expected because we are needing less," says Alan.
Brandon says Wyndlea farm's impressive results has prompted the family to extend the trial to half the Oriini farm, which just had a second liquid application. Alan says the trial's success is due to support and assistance from a collaborative team, including David from Forward Farming, Kiwi Fertiliser, Terragen Biotech, and an international team of experts including Australian agronomist Peter Norwood, a farmer himself.
"And it's critical to actually commit to the programme and stick to it – and do as you're told and advised. Because I'm sure if we hadn't, we wouldn't have got these good results."
David, the trial facilitator, says the eight steps is crucial to mitigating N and phosphates losses to waterways – but, contrary to popular belief, transition from a chemical farming system to a biological one doesn't necessarily mean a loss in pasture, production and profit.
"Alan's reduced his farm's N application by following a method that balances soil nutrients and increases biology under the soil, enabling atmospheric and biological N to be fixed naturally, thus reducing need for synthetic N.
David talked attendees through Total Replacement Therapy's procedure and the eight steps to a biological system without profit loss before they took a farm tour. Learn about the eight steps at: https://totalreplacementtherapy.com/
David says a new observation from the demonstration is Wyndlea's Milk Urea Nitrogen figures for this year are markedly lower than the previous five years. "When Total Replacement Therapy was started last October, the reduction of applied synthetic N on-farm directly correlates with a reduction in MUN.
"Experts say there's a direct connection between MUN and the amount of N excreted in urine – so cows with low MUN excrete less N as urine. As CRV Ambreed's R&D head Phil Beatson says: 'N excreted in urine is particularly important because much of that N is leached into groundwater'."
The next phase of the Total Replacement Therapy on Wyndlea is to measure and monitor carbon status and sequestration, water for pollutants, methane, pasture improvement – and, particularly, look at how better quality soils and pasture transform into better quality milk, meat and other produce which will lead to better human health.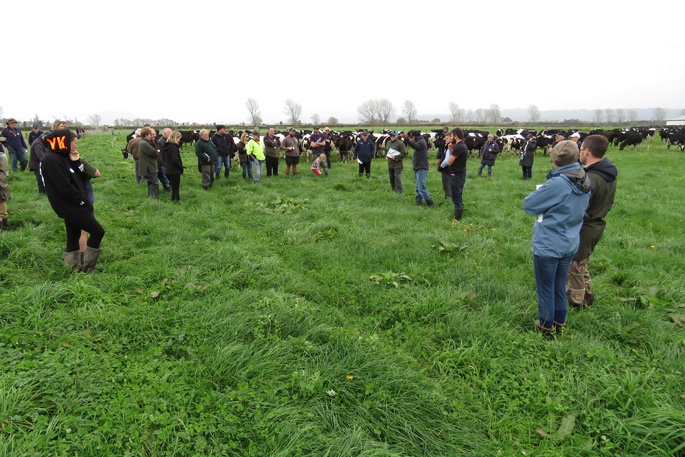 Talking Total Replacement Therapy in the paddock. Photo: Merle Cave.