With 10 tractors, a bulldozer and a BSA Bandtom 1951 motorbike, Tauranga Vintage machinery club president Murray Wastney has quite the collection.
"Tractors and diesel are in my blood. There is a lot of satisfaction that comes with restoring something that would otherwise be scrapped," says Murray.
He keeps his prized machinery and seven stationary engines in a 22-metre-long shed on his Katikati property, where he lives with his wife Natalie.
His passion for tractors dates back to his school days, growing up in rural Nelson.
"My parents were war pensioners, so we didn't have a car or transport and you had to entertain yourself. They never owned a farm, but I would help neighbours on their land."
"I worked for money, but did plenty of free labour too because I loved it.
"One of my neighbours had a tractor especially for me, which he called 'Murray's tractor'. It was an old thing with a hand clutch, which I got to use to harrow the paddocks."
While 'Murray's tractor' was a John Deere, his passion lies with Fergusons.
Murray drove a brand new Gold Belly 1957 Ferguson FE35 when he was a boy. Now, a tractor of the same make is in his garage.
"It was a great experience. When I look at my Fergusons they bring back those memories.
"The Gold Belly colour was only manufactured in 1957 and 1958. It's beautiful, especially in sunlight."
Murray led a varied career using plenty of different machines – from driving Land Rovers and bulldozers on D'Urville Island in the Marlborough Sounds to motor-scrapers for his own business.
"I had nine machines in my business and would always work on them."
He only decided to take up restoration as a hobby after retiring five years ago. "You have to have the time to do it. I've always been a manual worker so retiring to lay on the couch was never going to work for me."
"It's a good hobby to have when you're retired because it doesn't cost a lot. With the money I've spent on all of my tractors, I'd be lucky to restore one vintage car."
Most recently, Murray finished restoring his 1949 Farmall M, which his son Scott, 36, drove in the club's recent Tractor Trek from Murray's house to Waihi.
"I said: 'Go on son, take the pride of the fleet'. He helped me put the transfers on, so seeing him drive it was a pretty cool moment."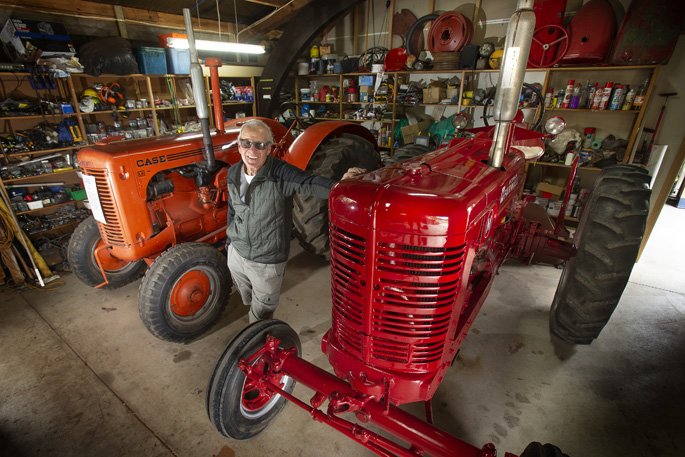 Murray Wastney with his 1949 Case LA, left, and 1949 Farmall M right.