At the front of Jeffie Botha's 1ha hillside Apata property is her friendly Labrador, 'Luna', with a shiny coat of fur gleaming in the afternoon sun.
Jeffie and son Leon, aged nine, feed Luna goat's milk alongside a full raw food diet. They've been selling goat's milk in frozen 500ml bags via a distributor in the Western Bay of Plenty for about 12 months.
Jeffie twigged onto the idea in 2017 while selling a range of home-made goat products.
But her love affair with goats began years ago. "In 2013 I rescued two goats when with Leon's father on a farm in Opotiki," says Jeffie, who admittedly grew up as a city girl in Pretoria, South Africa.
Living near Katikati for nearly three years, Jeffie says she just love goats. "I love their personality. I've always had an affinity for them."
Unbeknown to Jeffie, her rescued goats came home in-kid; and once kidded their milk came in. Her initial dream was to make goat's milk cheese commercially. But when Jeffie looked into the skill of cheesemaking, she realised it wasn't straightforward. "There is a bit more to it than just making the cheese. So I started a business making goat milk soaps and lotions."
But after a few house moves and a decision to homeschool Leon in 2019, Jeffie found the soap and lotion-making too time-consuming. She decided to re-strategise, rebrand and for the time being, solely focus on her pet milk business selling goat's milk for pets in its raw form under her new label 'Goat Milk for Pets'.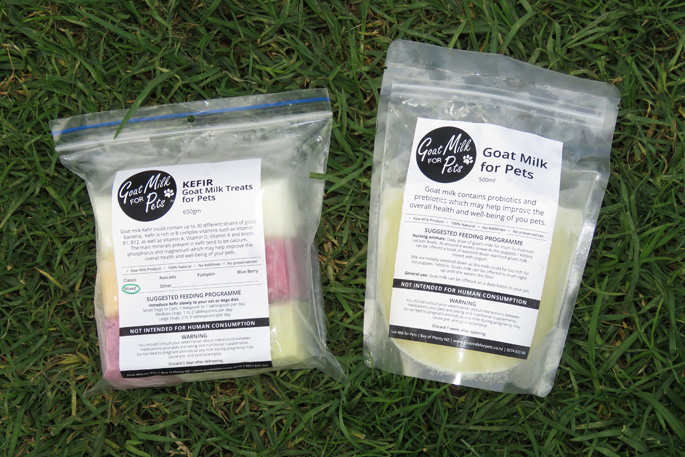 A small player, Jeffie has 25 goats and works with what she can manage. This year she will have at least eight Saanen goats in milk.
"The goats produce varying amounts of milk – to start with they were not full-breed high value stock, but over the years I've been breeding the best does to registered bucks to add better genetics to improve the quality and quantity of milk produced by the does.
"The girls that kidded last year have lovely sized udders on them with a good milk supply. We are finally getting there!"
She began handmilking in 2013 but has since bought a small portable milking machine that can milk four goats at a time. With this machine, milking time was cut from around three hours per milking to one hour.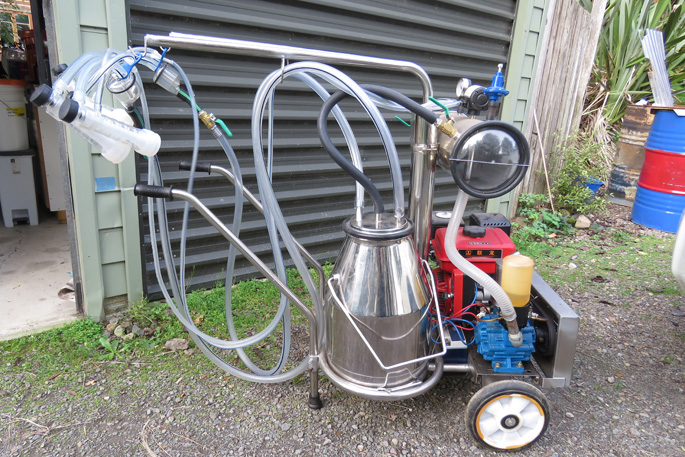 "I milk, bag and freeze it and deliver the final product to our distributor, Out of The Wild Pet Food outside Katikati. We have a few stockists around the country that sell our products with more coming on-board in the next season."
Jeffie's customers feed the milk to their cats or dogs. "But it can be fed to any animal – including calves, foals etc. Our dog Luna's coat just shines, she's in very good health. We have customers that are dog breeders, and they give the milk to lactating bitches as well as puppies."
Goat milk contains vitamins, minerals, electrolytes, trace elements, enzymes, protein, and fatty acids, says Jeffie.
"In fact, the body can digest goat's milk in 20 minutes. Having fat molecules one-fifth the size of those in cow's milk makes it easily digestible and tolerable even for dogs with digestive issues.
"Plus raw goat milk is a source of easily digested probiotics that can help with many chronic diseases. Some clients give it to their elderly dogs, or dogs that have had operations, for it's believed anti-inflammatory properties."
Jeffie recently added Goat Milk Kefir treats to her pet range. "Kefir is a fermented milk product that has probiotics and is very good for health. Goat milk kefir contains up to 30 different strains of good bacteria, which may help improve overall health and wellbeing of pets," says Jeffie, who also warns that kefir has to be introduced slowly to pets.
And she's about to release wheat-free dog treat biscuits made with goat's milk and goat milk dog shampoo bars.
"All of our products are made with natural raw ingredients and I source supplies and packaging materials locally or from NZ-owned businesses where possible."
Currently dried off, Jeffie's girls will kid in August. Kidding is a stressful time for Jeffie, so she keeps all in-kid does on her home block to observe them.
She also leases 2.5ha in Whakamarama, which has a small milking shed and yards. This land houses doelings from 2019's kidding season, which will be 2021's milkers, and boer-cross-kiko goats for homekill for Jeffie and Leon.
She finds goats very easy to look after – but does warn: you need good fencing. "Goats are very intelligent and inquisitive animals. If there's a hole in the fence, they'll find it. That's just how they are."
Other necessities are grazing, water and shelter. Prolonged dry weather has Jeffie giving her goats supplement feed to keep condition on, and they enjoy in-paddock salt blocks. Jeffie clips hooves every six weeks and says goats are very susceptible to worms, so require regular drenching.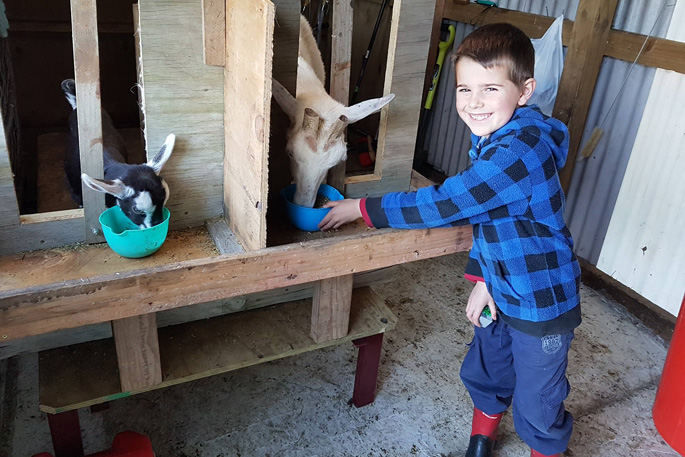 With Leon, who has Asperger syndrome, being home-schooled, Jeffie says the goats offer a beneficial environment for him to thrive in while also learning skills out of the classroom. "He knows the practical side of goat farming. He's seen births, and me process culled goats for the freezer. He also helps at feeding times and hand-rears babies." With both Jeffie and Leon being on the autism spectrum it's ideal for them to be outside, getting the therapeutic benefits of being around animals.
Jeffie works hard to create a sustainable business that supports a lifestyle on the land her and Leon can enjoy. "The health benefits from goat's milk are just phenomenal. In my eyes – goat's milk is white gold," says Jeffie. "And I just can't see my life without goats."