As farmers head into a new season they have two new leaders steering their industry into the future.
Federated Farmers' new president is Manawatu dairy farmer Andrew Hoggard, who was elected to replace Katie Milne at Fed's national AGM on June 26.
Meanwhile, Fonterra announced the same day that current farmer director Peter McBride has been selected as the co-operative's chairman-elect by his fellow directors. Peter replaces current Fonterra chairman John Monaghan, who will retire as a co-op director this November.
Feds chief executive Terry Copeland says Andrew Hoggard, who was vice-president for the three-year term just ended, has proved himself as an energetic and able representative "especially in his roles as spokesperson on climate change, commerce and connectivity".
Wairarapa farmer Karen Williams, who has a background in resource management and environmental planning, finishes her term as Arable Industry Group chair and takes on the vice-president role. The new Arable chair is South Canterbury's Colin Hurst, the 2019 'Arable Farmer of the Year'.
New blood on the national board includes Golden Bay Provincial president and 'YOLO Farmer' Wayne Langford, who has just taken up the reins as Dairy Industry Group chair, and Wairarapa Provincial president William Beetham, who is the new Meat & Wool Industry Group chair.
For the two board 'at large' positions, provincial delegates voted to retain both Chris Lewis, who finishes his term as dairy chair; and Canterbury's Chris Allen, who has been integral to the Fed's advocacy on complicated water and biodiversity issues in the last three years.
Andrew says outgoing president Katie Milne has set a high standard. "They're big gumboots to fill. She brought her own style to the role and made it a priority to increase the level of understanding between urban and rural NZ.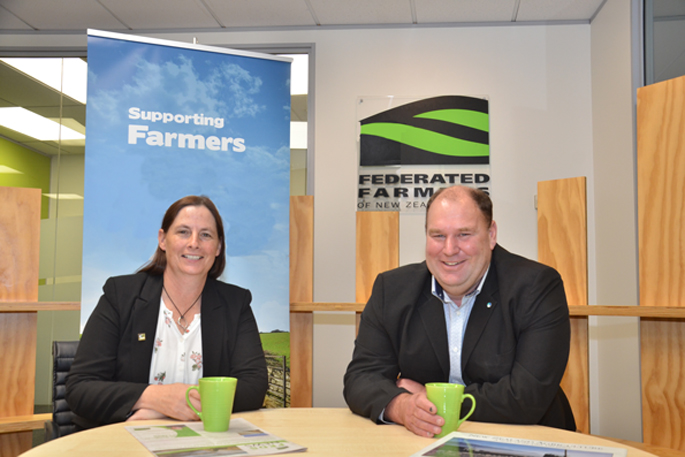 Federated Farmers' outgoing president Katie Milne with new president Andrew Hoggard.
"I want to continue that work, and also the advocacy we've been doing with central and local government politicians and officials on getting them to recognise that policies and regulations need to achieve a balance between protecting the environment and preserving livelihoods, always keeping practicality and cost-effectiveness in mind."
At Fonterra, John Monaghan says Peter McBride's chairman-elect announcement is part of the board's commitment to planned governance succession.
"We've made significant progress in the last two years in our effort to refresh our co-op's purpose, strategy and culture. It's important to the board that we provide stability while Miles Hurrell and his team continue to embed the changes and maintain our momentum.
"Making this decision now also gives our farmer-owners transparency of leadership prior to this years' director elections and allows Peter and I a period of handover before I retire."
Peter says he's looking forward to leading the co-op on behalf of its 10,000 farming families. "I grew up on a dairy farm near Te Aroha and today my wife Linda and I run the family farm milking 950 cows in the South Waikato, so dairy has always been part of my life.
"I'm looking forward to working alongside John for the next few months before leading our co-op into its next phase and creating value for the benefit of our farmer owners and unit holders."
He also recognised John, who has given almost two decades' service to the co-op, with 12 years as a director. "He'll leave behind a board culture of shared responsibility, which is something I will look to build on as the new chairman."