When Ken and Christine Savill sold their 289 hectare drystock farm in Arohena near Te Awamutu, it took them some time – and an open-minded search of the whole Waikato region – before they settled on a 27ha block outside Raglan.
Christine admits that "the view sold it", and while Ken agrees, he would have "liked a bit more land".
The couple have built a three-bedroom, off-grid home on an elevated peninsula of their land, with a beautiful view back up the Opotoru Estuary towards Raglan. Landscaping and the area around the 10m by 4m ozone pool is still to be completed, but the house is finished.
The house has been built to maintain an even temperature throughout the seasons. "We chose black clay bricks, a dark roof, and have insulated all the walls, interior and exterior, and the ceiling with wool insulation," says Christine.
"The floating concrete pad is insulated with polystyrene, and the abundance of extra height windows are double-glazed."
The main living areas are in one 'wing' and the 'bedroom wing' extends further, effectively shielding the north-facing covered portico and deck from the notorious Raglan westerlies.
The house is completely off-grid, with a septic tank, solar power, bottled gas, and roof water with a farm spring top-up filling two 30,000L concrete tanks. The gas runs the hot water, stove and oven, and an attractive gas fire in the media room. The heat is ducted to other rooms.
"We've got 30 solar panels on the roof, with a big hub in the garage, where the batteries continually charge," says Ken. "It's designed to meet our electricity needs, but there's a petrol generator that kicks in automatically if required."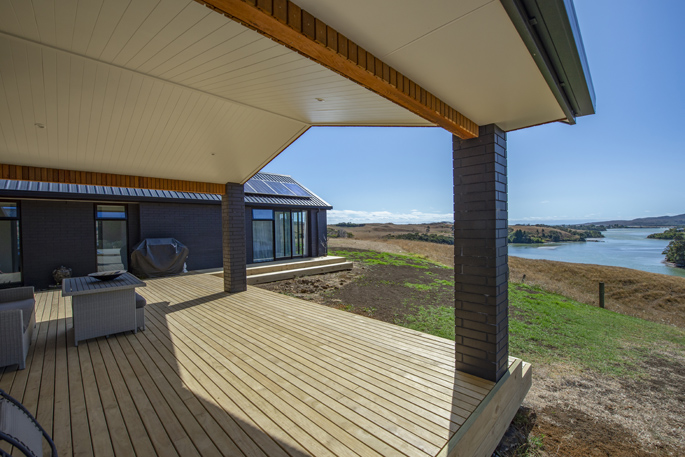 With amazing views in every direction, extensive decking has been built on every aspect except the west, maximising the outdoor living options.
The modern interior uses on trend black-and-white fittings in the kitchen and bathrooms, with accents of light timber. Areas of vertical cedar shiplap break up the black bricks externally, and the decking will be stained to match.
Ken grazes 65 Friesian bull calves on the rolling land. He's had to dig fence post holes by hand, when his post borer couldn't cope with the hard clay soils.
Next, Ken and Christine will be working on landscaping, fencing waterways, and planting their gullies. In their spare time, they enjoy kayaking on the estuary, and Ken works his competition heading/huntaway dogs.