Tourists arrived by boat, train, on horseback, in coaches and some even walked, to take the therapeutic waters at Te Aroha 130 years ago.

Today tourists continue to arrive in New Zealand's most authentic Edwardian spa resort to bathe in the hot springs, enjoy relaxing spa treatments, shopping, dining and more and an increasing number bike into town, along the popular Hauraki Rail Trail.

The Te Aroha and District Museum is located in the Cadman Bath House, built in 1898.

Taking the waters, both by bathing and drinking was fashionable in the 1880s when 18 different springs, 15 of them hot, were compared to the world famous springs of Vichy, Chandesaignes and Elms and reputed to be beneficial for rheumatism, arthritis, dyspepsia and even eye diseases.

It was Te Mokena Hou, a Ngati Rahiri chief, who gifted the springs to the government and the Department of Tourists and Health Resorts which promoted the Te Aroha Hot Springs to New Zealand and international tourists. For a time Te Aroha drew more visitors than either Rotorua or Hanmer Springs.

Today the spa town's history is recorded by the Te Aroha and District Museum, located in the Cadman Bath House, built in 1898.

The original tiled flooring is still in place, as are the ornate porcelain, flush toilets and one of the original bathrooms where clients would soak in thermal water and then enjoy a massage at the hands of Elsa Fredga the Swedish Masseuse brought to New Zealand by the tourist department.

Hi-tech therapy
Ron Galloway, vice-president of the Te Aroha Museum says Elsa was probably a qualified physiotherapist and her skills were also in demand at Rotorua and Hanmer Springs.

Later therapists used what were for the time hi-tech diathermay and Greville electrical devices and even ultra-sound to help relieve aching muscles and possibly as beauty therapies. The bath house continued to be used as a therapy centre until 1962.

Janice Parsell President of the Te Aroha Museum says it was Te Aroha Mayor Henry Skidmore who instigated the birth of the museum in 1971 and donated a horse-drawn plough as the first item in the collection.

"Local men Lou Rogers, Reg Gillian and Keith Williams took up his idea of a museum and put an advert in the paper asking for donations of items. They got so many they filled up a very large shed."

The collection needed culling, cataloguing and displaying so some of the larger pieces of machinery and other objects were sold and, thanks to tireless work of volunteers, much of what remained is now on display in the museum in the town's historic domain.

"We are still working through cataloguing and recording every item in the museum. So far we have 7888 items photographed and recorded on computer," says Janice.
The museum is supported by a team of 26 volunteers, who have each selected an aspect of the museum they want to work on. "It's an excellent system because we have someone here every day totalk to visitors, but also to keep themselves busy cleaning, repairing, researching, arranging displays or cataloguing," says Janice.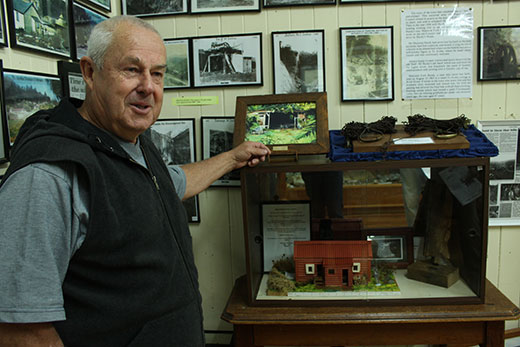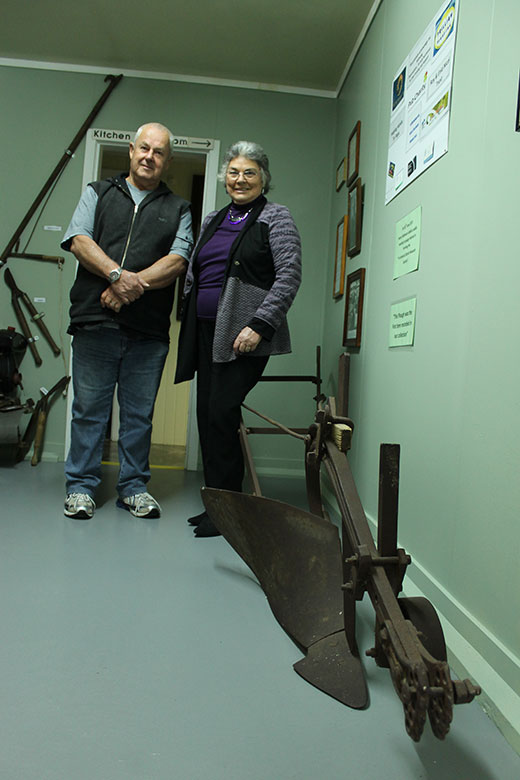 Ron Galloway and Janice Parsell with the first item donated the Te Aroha Museum, a horse-drawn plough gifted by the then Mayor Henry Skidmore.

Research work
Ron has the role of research for the public, pouring over micro fish flies of the Te Aroha News dating back to 1882. "We charge a fee for research because it is so time consuming, and we do get a lot of requests for people wanting to trace family, or particular events, like the recent request to find out when and where a particularly large boar was killed on the mountain," he says.

Rather than display all its artefacts at once, the museum changes exhibits on a regular basis.

"Currently we have a World War One exhibit, which I found quite moving to work on because so many of the very young men who went to war didn't return," says Janice.

In the exhibit are two photos of young men museum researchers haven't been able to identify so they have asked for the public's help in finding out who they were.

Another exhibit tells the story of gold mining in the Waiorongomai Valley. When Hone Wharehiko found gold there in the 1880s it attracted so many prospectors, the valley became the scene of large scale gold mining activities, but the mine proved uneconomic and by 1900 most miners had left.

However, Ron says one determined miner, Malcolm York Hardy lived alone in a remote bush hut and worked a claim at Waiorongomai for many decades. Ron and Janice visited Malcolm's hut, which by then had collapsed, to measure its dimensions so Ron could build a model for the museum.

"I remember going there as a child, and seeing the rafters, as it had no ceiling," says Ron as he lifts the roof off the scale model of Malcolm's hut to reveal the exposed beams. "Children love seeing this."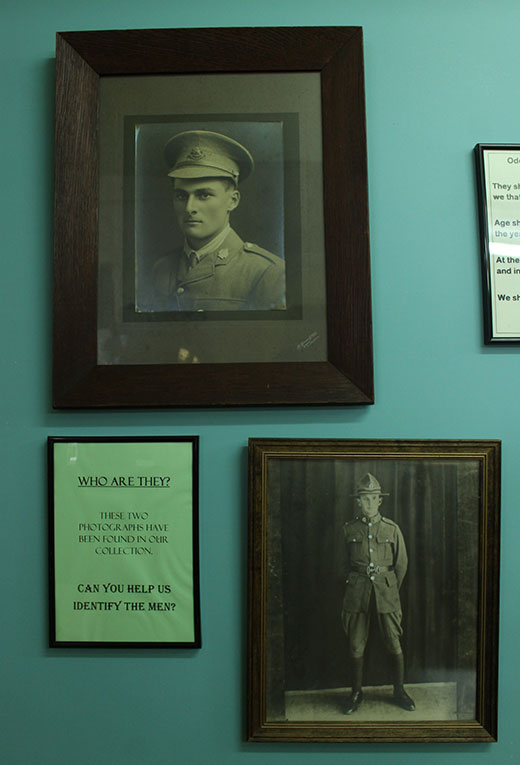 Among the Te Aroha Museum's World War One exhibition are two photos of young men researchers have been unable to identify. The museum would like to hear from anyone who knows who they are.

Electric town
Te Aroha was one of the first small town in New Zealand to have reticulated electricity when in April 1906 electric current became available in the Te Aroha Borough. A hydro scheme diverted water from the Tunakohoia and Omahu Streams to a small reservoir above Hamilton Street. Delivered by pipe line to the Te Aroha Power House 150m below the reservoir that water drove the 100 horsepower Cassels Pelton wheel which in turn drove a 3,100 volt generator providing electricity for the town. The generator is now in the museum. "We installed it by crane, before the roof went on an extension to the museum."

Janice says the Hauraki Rail Trail has provided a welcome boost for Te Aroha and the museum by bringing more visitors to town and she recommends a museum visit should be on their itinerary.

"We have a number of activities aimed at children of all ages and abilities and they are so popular we often find parents have finished looking round, while children are still trying to find that last item on their project sheet."

The Te Aroha and District Museum is in the domain in the town's main street, Whitaker Street. It is open seven days a week from midday to 3pm in winter and 11am to 4pm from Labour Weekend until Easter, and other times by appointment.