The Spring Fling at Te Puna Quarry Park is a chance for gardeners to speak directly to growers and plant specialists, some of whom are nationally renowned and all of whom are Western Bay of Plenty locals.

Spring Fling organisers, from left, Shona Purves, Elizabeth Bailey, Athole Harvey, Jo Dawkins and Dulcie Artus.
"The idea of the Spring Fling is to celebrate the Quarry Park when the gardens are at their best," says lead organiser Athole Harvey. "Then we thought it was also a good chance to celebrate all the amazing growers that we have in this area."

The inaugural event last year was such a success the Spring Fling looks like becoming a staple on the Quarry Park calendar, complementing the popular QuarryFest held on the first Sunday in November.

"The QuarryFest has more of a Christmas market atmosphere," says Athole. "We thought there was room for something that was all about plants and gardeners."

Among the stall-holders at the Spring Fling will be bulb expert Bill Dijk, fuchsia lovers Lorna and George Baldock, renowned plant breeder Ian Duncalf with clivias, bearded iris grower Cris Savage, plum tree specialist Brent Tennet and Kings Seeds, which has the country's largest range of organically certified seeds.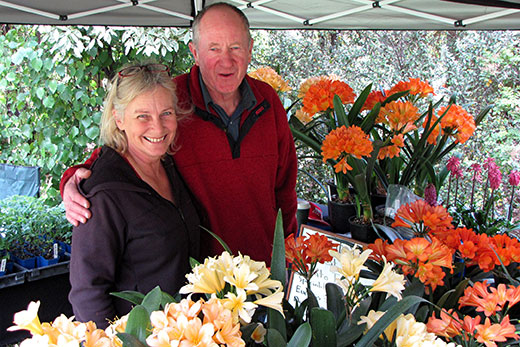 Clivia enthusiasts Judy Shapland of Apata and Ian Duncalf of Te Puna had a combined stand at last year's Spring Fling and will be back for this year's event.

Mary Parkinson, who established the park's butterfly garden, will share her knowledge of creating garden habitats for butterflies and hopes to have some frogs on display, there will be a hobby beekeeper speaking, and floral art and orchid repotting demonstrations.

Shona Purves and her helpers last year raised $900 for the volunteer-run park through the sale of Devonshire teas and baked the scones on-site in the gallery's kitchen so visitors were treated to warm scones with jam and whipped cream.

"It was a bit of an undertaking – probably more so than I thought when I offered to do it," says Shona. "We were baking continually from the opening at 10am and would have baked well over 200 scones through the day."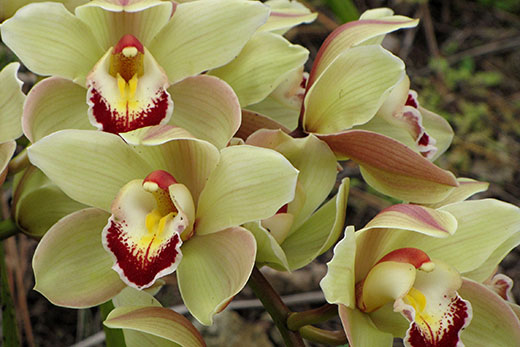 Te Puna Quarry Park is renowned for its spring orchid display.

This year Shona won't be nipping out-to drum for the Tauranga Pipers Club which is this time sending solo players. "Having to go and drum when there was a queue of people wanting teas did get a bit stressful," says Shona.

The teas are served in the gallery building at the far end of the carpark, which is also where visitors will find a display of entries in the competitions for children – sand saucers, up to 20cm in diameter, by youngsters aged up to seven, and miniature gardens, up to 30cm in diameter, from eight to 13-year-olds.

Entry to the competitions is free and there are prizes in both categories. Entries must be delivered to the gallery by midday on September 7.
Spring Fling

When: Sunday, September 7, 10am-4pm.

What: Plant sales, demonstrations, beautiful spring gardens, scones baked on site for Devonshire teas and children's competitions – sand saucers and miniature gardens.

Where: Te Puna Quarry Park, Quarry Rd, signposted off SH2 north of Tauranga. Shuttle buses will run from paddock parking to the park and back. The event will be cancelled only for heavy rain.

Entry: $2 per adult.

More: From Athole Harvey, phone 07 549 5202, or Jo Dawkins, phone 07 552 5789.