Waikato orchardist Robert Litchwark blames his aunt Margaret for the fact
he's an avocado orchardist.

"My aunt used to put avocado stones in milk bottles to grow seedlings and then give them to me.

Robert Litchwark is probably the only commercial avocado grower in the Waikato.

"Of course they were no good for commercial trees and at the time I didn't even like the taste of the fruit," says Robert, who is probably the Waikato's only commercial avocado grower.

Now he's also a committed fan of the trees and the fruit.

Aside from his aunt's home-grown seedlings, his interest in avocados was sparked when he heard Bill Fletcher of the Department of Scientific and Industrial Research talking on National Radio about growing the trees commercially.

The industry was still in its infancy but the tree which grew on Robert's front lawn appeared to be producing well so he decided to investigate establishing an orchard.

Robert got a copy of Bill's book and following his recommendations, began planting trees on a sheltered two hectares of land near Maungatautari 17 years ago.

In a move which was ahead of his time, Robert also planted zutano avocado as pollinators.

"Bill [Fletcher] recommended doing that and initially I planted them at a centre of nine trees but that ratio has changed as I've planted more trees.

"I think it would be possible, because of their upright growth, to plant and trim zutano as shelter as well as pollinator trees," says Robert.

Colin Partridge, who now works for Southern Produce, was another source of advice and information – and Robert drew on his own background in the forestry industry as a young man to plan and establish the orchard.

Withstands frosts
As the orchard matured, Robert went looking for packhouses to handle his fruit and invited Hugh and Dorothy Moore of KauriPak to visit the orchard.

"Hugh seemed impressed and said I should join Team Avocado, so I did."

While it may appear the Waikato winters are too cold for growing avocado, Robert says his trees do withstand frosts and produce well.

Last year he achieved a 70 per cent pack out, which was slightly above the industry average for fruit quality. The orchard has 100-year-old casuarina shelter trees, which made establishing the orchard possible. It also has free-draining ash soils, which are favoured by avocado.

"Avocado don't like wet feet and they don't like clay soils either."

Robert applies FruitFed Avocado Fertiliser mix by hand to each tree once a month.

"I don't apply nitrogen during winter. I let the trees have a winter, as I don't want to promote new growth which can get frosted."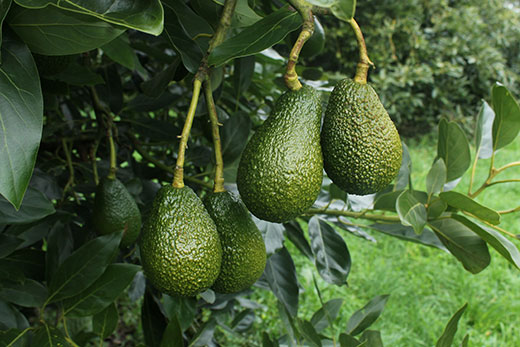 Monitor pests
Phytophthora disease is controlled by regular injection using the Aongatate system once a year and Robert carries out most of the pruning work himself.

He's also recently learned to monitor pests under the AvoGreen programme, and with his own tractor-driven sprayer applies sprays when needed.

Like most others, Robert's orchard is affected by irregular bearing, but some trees produce consistently – year after year. "I've tried to find out why, but so far can't see a pattern," says Robert.

Harvesting all fruit before January does have an influence on crops for the next two seasons, he believes. "I sincerely hope all my fruit is picked well before then this season."

Robert also hopes exporters will carefully manage this coming season's record five million tray crop to protect grower returns.

"Last time the industry had a big crop exporters flooded the Australian market and prices crashed. I think all exporters will be closely watched by growers this season."

Takahe and kiwi
Robert grew up on a dairy farm close to his current home but began his working career with the New Zealand Forest Service, which suited his love of trees, the outdoors and hunting.

He returned to dairying but says it wasn't for him. "To be a successful dairy farmer you have to enjoy what you are doing and when I stopped enjoying it, it was time to do something else."

Today Robert runs his own avocado orchard, works on a neighbouring gold kiwifruit orchard, and spends considerable time as a volunteer at Maungatautari Ecological Island.

Always keen on the bush and birdlife, Robert says he'd never thought he's hold a takahe or hunt and capture kiwi – but that's among his experiences since joining the group operating the inland 'island' protected by a 47 kilometre predator-proof fence.