Mataiwhetu Farms is an impressive example of how carefully considered stock types and rotation, combined with a thorough understanding of topography, soil and weather conditions, can not only protect the environment but also enhance farm production.
Allen Coster with staff member Paul Anselmi run the 295 hectares sheep and beef property in the lower Kaimai Ranges, which has been in the Coster family for more than 55 years. Allen describes the land as "medium hill country". Despite the steep contour of parts of the farm, (which is an entrant in the Ballance Farm Environment Awards), there's no evidence of erosion. That's because Allen carefully manages stocking rates, grazing rotation and animal types. In early-December he was running 126 rising two-year-old steers, including some South Devon steers, which he bought in June from the Tuaropaki Trust at Taupo. "They were pretty quiet when they arrived and will still come when I call them." They might be big but being so docile means the steers don't overly damage the pasture and they don't run round when being moved, nor do they put pressure on fences. "In the six months they had been on the farm, the steers have gained 200kg." New yards and a cattle crush Allen has installed has made drafting, weighing and drenching the cattle easier, safer and quicker. Its location has also reduced the need to move the cattle too far, reducing damage to pasture and races.
Weather station
The Bay of Plenty Regional Council has installed a weather station on the farm, including a lysimeter which also measures soil moisture – a device Allen, and his late father Jim before him, found particularly valuable in making decisions about grazing rounds, stocking rates and pasture management. "By knowing how wet or dry the soil is, combined with what we know about grass growth on the farm, we can make informed decisions about where and when to move stock and when to buy or sell animals." The big heavy steers, some up to 800kg by December, do cause pugging to pasture, something Allen counteracts by putting up to 20 per cent of the farm into summer fallow each year. He break-feeds dairy grazers on those paddocks, a practice which helps break up the pugging, and supplies nutrients to the pasture. The dairy grazers do well at Mataiwhetu Farm too. One mob of Jersey heifers on live weight gain contract put on 250kg in the 12 months they were there. Allen also pays particular attention to how he grazes the 1384 sheep on the farm. "We scan the ewes and those pregnant with triplets, and any ewes which are under weight, go into a separate mob which receives 2kg of dry matter a day while the rest of the ewes get 1.5kg." Hoggets are also well fed. This practice, plus injecting with iodine in January or February, and using good genetics, are among the reasons Mataiwhetu Farms' hoggets achieve a 100 per cent lambing rate and the ewes a 168 per cent rate. Mataiwhetu Farms buys in rams from the Nikau Coopworth Stud and uses rams which are very tolerant of facial eczema and resistant to worms. Lamb carcass weights lifted by 1kg last season to 18.5kg and an additional 150 lambs were sold before Christmas than in the previous year, an all-time best-ever result.
Native bush
Caring for the environment and the native bush has been a part of the Coster family ethos since Allen's grandfather – also called Allen – began farming the land in the 1950s. It was continued by Allen's father, the late Jim, and his mother Robyn who still lives on the farm. "Dad used to give us kids jobs every Saturday morning, and it was often cutting out tea tree by hand and cutting back and digging out gorse, especially round the areas of wetland and native bush." Jim also designed, with son Allen's help, and installed two water wheels that pump water direct from a spring to reservoirs to gravity feed to stock troughs. Those school-boy conservation jobs didn't put Allen off. He's keeping up the family tradition by planting five hectare of wetland to complement the 34ha of native bush, which was protected years ago.
Pines a solution to gorse problems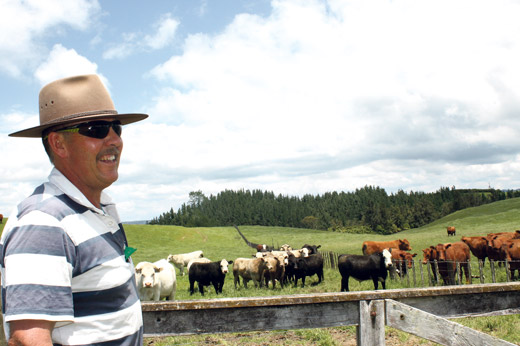 "The areas we have recently put into natives includes a stand of red woods where a waterway is fenced off." Five years ago, a 5ha block was planted into pines as it had a real gorse problem and pines were the best solution. Allen leads one of the van teams in the project Tauranga Street Help,a 25-year-old Christian charity which every Friday and Saturday night, sees volunteers offering pies, hot drinks and help to people on the street. "As well as the food, we aim to give young people especially, someone they can talk to and we try to help keep people safe," says Allen, who has been instrumental in assisting in saving the lives of at least two people suffering the adverse effects of drugs and alcohol.