Bruce Polley of Katikati is always keen to find work for Royal (left) and Hamish on the avocado orchard.
Being gently "mobbed" by a team of very large, inquisitive Clydesdales sparked a new and absorbing hobby for Bruce Polley of Katikati.
"I'd grown up aware of horses. My father was president of the Bay of Plenty Trotting Club and I have a vivid memory of riding a sled pulled by Clydesdales owned by my great uncle Ran Stewart when I was about six. But I'd never ridden or had any closer connection with horses," says Bruce, who now owns two Clydesdales named Hamish and Royal.
It all began in 2005 when Bruce saw a sign for a Waikato Heavy Horse Association event and wandered in to take a look.
"I met well-known horse enthusiast Fred Pilling and asked if I could pat his horses, which were in a paddock," recalled Bruce.
"My previous experience with horses was that they'd usually run away from you. But instead these big Clydesdales came towards me, gently nudging each other out of the way to get closer. "I was impressed at how inquisitive they were and decided I'd like to know more about the breed."
It was to be another four years before Bruce bought his first Clydesdale, but he'd been observing and learning about the breed, at the same time as developing the avocado orchards he and wife Michelle own in Katikati.
Trial and error
Bruce found mentors among members of the Waikato Heavy Horse Association, but admits much of what he's learned, and is still learning, comes from trial and error. "Clydesdales are fairly forgiving horses. They don't forget but so long as you don't drop them in the deep end, they get over minor mistakes.
"While they are a placid breed, Clydesdales are not all bullet proof and still require respect. "They each have their own temperaments and must the handled carefully because they are big and very powerful."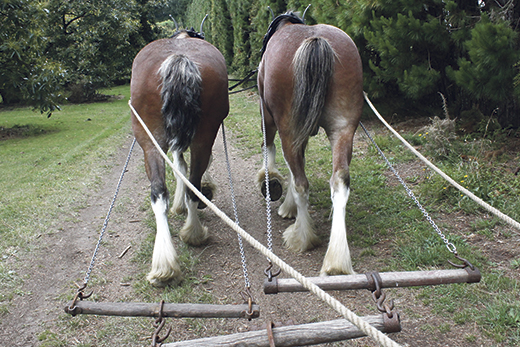 Royal and Hamish tow a sledge around the paddock.
Bruce has broken both Hamish and Royal to pulling carts, wagons and sleds, using harnesses made by Jacqueline Pryce of Blackwood Clydesdale Stud at Tongaporutu, Taranaki, and collars made by Steve Smith of Cromwell.
There's little work for the horses on an avocado orchard but Bruce uses them to pull a sled to transport firewood, to shift shelterbelt trimming or any other task he can find to keep Hamish and Royal fit and hone his own skills for the shows they attend.
Disc harrower

Bruce, who is a descendant of the family of Katikati's Ulster Irish founder George Vesey Stewart, also has an historic horse-drawn disc harrower that once belonged to another of the early settler families, the Henrys.
"I exchanged many hours of spraying gorse for Owen Henry for the harrows, which are probably more than 70 years old."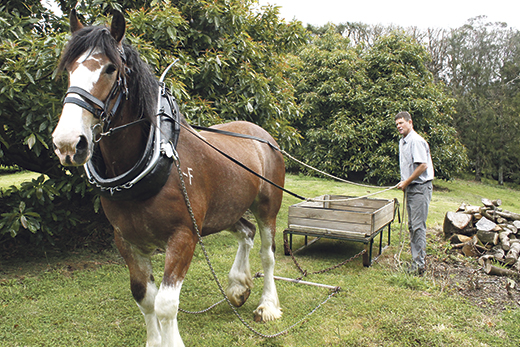 Pulling a sledge filled with firewood is one of the roles for Hamish.
When he's not exercising Hamish and Royal on the Wharawhara Rd orchard, Bruce takes them and a sled to Tuapiro Point and treks out on the sandbank at low tide. "It's a great place to exercise the horses and invariably we end up giving sled rides to tourists from the campervans at Tuapiro Point."
All that exercise and training pays off when Bruce and the horses compete at heavy horse events and A&P shows – but winning ribbons and prize money isn't the main driver. "It's about learning from the old hands and giving myself goals to aim for.
Slower pace
"I also love giving children the opportunity to pat the horses and to hear the stories of people in their 70s and 80s who remember seeing Clydesdales used when they were young."
Bruce's motivation is partly to preserve the Clydesdales and the old farm machinery they work, but he says it is more about enjoying an absorbing hobby working with intelligent and powerful horses which also provides a complete change of pace from modern life.
"As a former dairy farmer and now an orchardist, I'm used to being around noisy machinery so I just love the quiet and slower pace of working with the horses."