Once the horses are groomed and readied for the day, their riders disappear into horse floats, minutes later emerging in smart white breeches, riding jackets – black for ladies, green for the gentlemen or red for the master and huntsman – each with Waikato Hunt Wallace Tartan collars.

Ready – the field assembles behind Waikato Hunt master Grant McGregor and huntsman Lauryn Robertson and hounds, ready to hunt.
Beneath their jackets are white stocks, or cravats, many fixed with a traditional hunting pins – and riders also wear a hunt lapel badge.

Anticipation is building among the riders but most horses appear happy to quietly doze in the winter sun.

It's a mid-week meet for the Waikato Hunt and the woolshed paddock on Brent and Narelle Pollack's farm is filled with horse floats, 50 riders and their mounts.

Among them are Mandy and Carl O'Connor of Matangi.

"We met through hunting," says Mandy, as she adjusts Carl's stock. Both have been hunting for more than 20 years and despite the demands of Carl's rural contracting business and Mandy's work in the insurance industry, they relished the opportunity for a mid-week hunt. It's the people they hunt with and the chance to ride across beautiful countryside which appeals.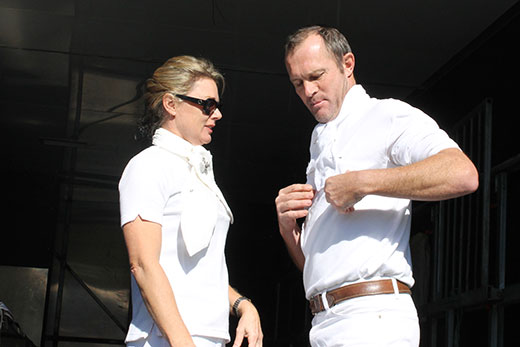 Mandy and Carl O'Connor of Matangi prepare for a day's riding with the Waikato Hunt.

Relaxed
Friends Seonaid Tye, who has been hunting for seven years, and Petronella Brown, a hunter for 20 years, says it's the friendly atmosphere of the hunt which keeps them involved.

Compared to other equestrian events, where riders and horses are competing under the eye of judges, Petronella says hunting is relaxed with no pressure.

Kim Timms, who has also been hunting for 20 years, gives her Arab horse Basil extra special attention on the cold frosty morning.

"I put a hot water bottle inside his blanket so it wasn't cold when I put it on, and I have warm water to wash him down after the hunt."

Preparations complete, riders gather near the master's vehicle to enjoy a 'stirrup cup' of mulled wine made and served by hostess Narelle.

It's a spicy, warming, citrus flavour and keeps with the strong traditions of hunting with hounds. Further up the hill huntsman Lauryn Robertson has his hounds and horse ready to hunt.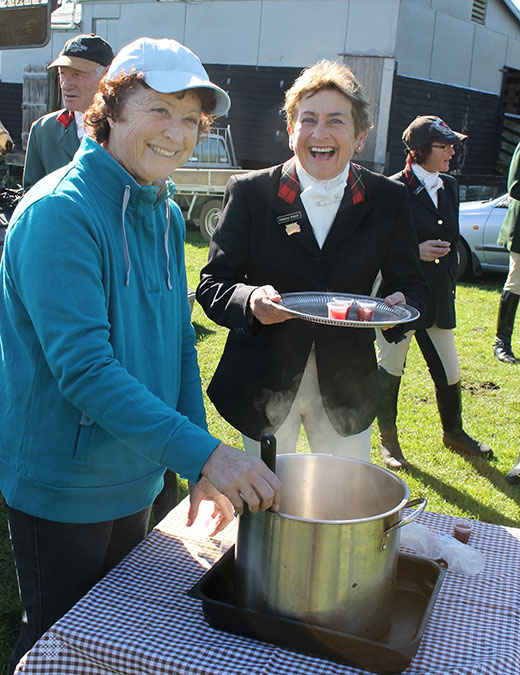 Warming mulled wine for the 'stirrup cup' is served by hunt host Narelle Pollock and Patience Walker.

Master
As midday approaches, master Grant McGregor, distinctive in his red coat, calls for the riders' attention, thanks hosts Brent and Narelle, and explains the procedures for the day, warning of potentially slippery conditions in some paddocks, and those not to be crossed.

Listening is Peter Reid, also a hunt member, who won't be riding that day. He'll follow the hunt, making sure all gates are closed, repairs fences in the unlikely event of damage and watches out for riders who may need help.

Not all will jump their horses. Some prefer to follow the hounds by 'gating' – going through gates – but whatever way they choose to be part of the hunt, all are there for the love of the experience.

Within minutes horses are mounted and, with master, huntsman and hounds in the lead, trot off for three to four hours riding over steep countrywide in brilliant sunshine, enjoying the thrill of the chase – should the hounds put up a hare – or the joy of the ride if they don't.

Late in the day the hunt returns for the hunt 'breakfast', and extends a 'thank you' to all of their landowner hosts.

Grateful
"We love having the hunt here," says Narelle. "We have been hunting ourselves and are happy to see others enjoy the experience and our property."

Not all landowners are so generous and master Grant McGregor says hunt members are very grateful to those who allow them to hunt on their land, keeping alive a tradition and an enjoyable sport which dates back centuries.

For more information about the Waikato Hunt, email secretary Margaret Fife marg@cambridgestud.co.nz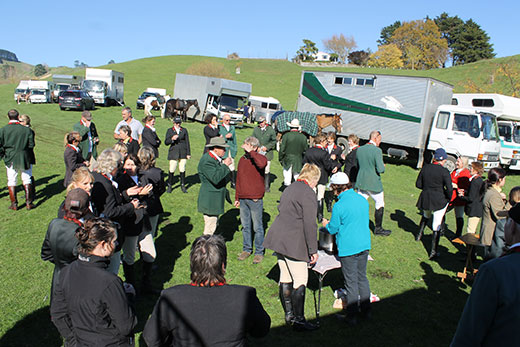 Waikato Hunt members in riding livery await the start of the day's ride.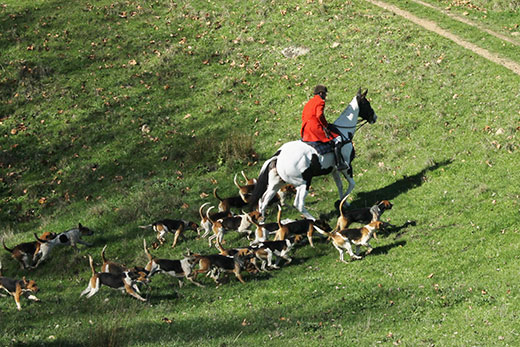 Huntsman Lauryn Robertson and hounds lead the Waikato Hunt across farmland on a cold frosty morning.