Zespri has established a global sales and marketing hub in Singapore, and a China advisory board in preparation for a dramatic growth in fruit volumes in the next few years.

Zespri's kiwifruit promotions focus on health benefits of its fruit, and a good dose of fun.

Zespri's President of Global Sales and Marketing Dan Mathieson says 45 million trays of the new variety SunGold are expected be sold next season and that figure will rapidly increase to 60 million.

"SunGold will hit 27 million trays this season up from just over 10 million last year. As we gear up for rapid growth, we need to keep demand ahead of supply and that means investing in structures and people.

"We have rapidly expanded our team in China and also invested in more resources in Southeast Asia, Middle East and India, and in Latin American markets, and are currently considering strong investment in the USA towards the end of this year."

A new office in Singapore is the global sales and marketing hub and headquarters of the Southeast Asia team.

China board
Zespri chairman Peter McBride says the members of the China advisory board – Sam Shih CEO of Pepsi China, David Mahon, founder and principal of Mahon China and Anning Wei, partner of the Gueva Fund and former director of Rabobank Agrifood Research – are all well respected and experienced in China and will provide strategic advice "on how we manage our risk and opportunities as our business grows".

China, despite being the world's biggest producer of kiwifruit (around 1.3 million tonnes a year), offers significant potential for Zespri, but selling there has not been without its problems.

Zespri has faced charges in China over import duties and more recently one of the companies it deals with, Dalian Yidu, has been investigated by Chinese customs. The company accounts for less than five per cent of Zespri volumes sold in China and the investigation does not appear to relate to the import of Zespri kiwifruit.

Zespri CEO Lain Jager says such are the complexities of the Chinese market, bringing on board people with a wide experience of doing business there makes sense.

Growth in China has been remarkable from less than a million trays in 2005 to 17.4million in 2015, making China the second biggest market for Zespri, close behind Japan.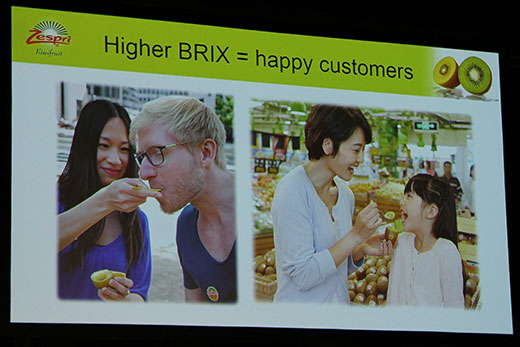 Grower confidence
Just five years on from the discovery of the devastating vine disease Psa-V, most growers have returned to profitability and the industry has just harvested its biggest crop ever, which is now being sold worldwide.

New Zealand Kiwifruit Growers Inc president Neil Trebilco says grower confidence and orchard values have continued to increase during the last 12 months.

"The main factors in this increasing optimism are the reduced effects of Psa and increasing orchard gate returns per tray, particularly for green.

"The increase in green per tray returns this last year has been driven by a combination of a substantial reduction in Hayward Green production in Chile, strong in-market pricing, plus low fruit loss on and off shore.

"Counterbalancing this, however, is the strong NZ dollar compared to the Yen and Euro. This will likely impact returns in coming years. Heightened activity in kiwifruit orchard sales has continued and per hectare prices are continuing to substantially increase."

Despite wide-spread industry optimism, Neil says there are some growers who continue to struggle with the impacts of Psa.

"Therefore, it's essential the industry remains connected and that growers know help is at hand if needed. The last 12 months has seen Psa progression slow, however it is important growers remain vigilant. A bad spring or high-risk weather event could cause Psa to progress and put growers under pressure once again."
Average Grower Orchard Gate Returns 2014/2015
Zespri Green: $6.01 per tray - $53,884 per-hectare
Zespri Gold: $9.80 per tray - $73,890 per hectare.
Zespri Organic Green: $7.37 per tray- $43,996 per hectare.
Zespri Sweet Green: $7.08 per tray - $29,682 per hectare.