Figuring out which body parts in plastic files came from which animals, rendering emergency first aid to an injured friend and measuring a stag's antlers to calculate a Douglas Score were among the challenges facing the 80 competitors who took part in AgriKids and TeenAg events at Paeroa.

The Happy Potters from Matamata Intermediate Kaycha Bradley, Ashlyn Lee and Bessie Trower identify animal body parts during the AgriKids contest at Paeroa.

Run alongside the Waikato/Bay of Plenty regional final of the 2015 ANZ Young Farmer Contest, the events aimed to find the top three teams to represent their regions at this year's Young Farmer grand final in Taupo.

The TeenAg competition was won by Shanae Hoffman and Graham Johnson from Te Awamutu College.

The AgriKids winners were Ethan Morris, Anna Morris and Ben Pettigrew from Elstow Waihou Combined School.

AgriKids and TeenAg competitions coordinator Isabelle Hobbs says the turnout for the day's events was fantastic with 60 competitors in 20 teams of three in the AgriKids contest and 20 competitors in 10 teams of two for the TeenAg contest.

Each team faced a series of timed challenges which encouraged them to use their skills at following instructions, quick thinking, practical skills, general knowledge and team work.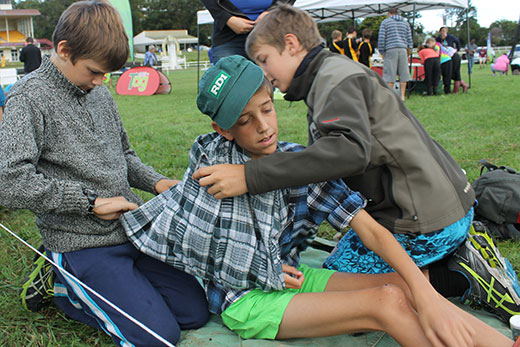 The Returners of Matamata Intermediate: Stephen Turner, the patient, and team mates Abel and Jerom de Wilde tackle the first aid challenge at the AgriKids contest at Paeroa.

Cheered on by enthusiastic family, teachers and friends, the teams also completed a series of fun races to finally decide the winners.

Isabelle says the popularity of AgriKids and TeenAg is growing.

"So far this year we've had three regions hit full capacity, which is 96 AgriKids and 64 TeenAg'ers.

"The members we currently have are definitely majority rural kids, however we're trying to put in initiatives to get more urban kids involved as we have a huge jobs opportunities in the agriculture industry in New Zealand and it is the exposure from a young age into the different aspects on offer that we hope will start to make a positive difference.

"As an urban girl originally from Wellington this is definitely a focus and passion of mine," says Isabelle.

There is definitely a strong connection between the numbers of entries and whether a school has a passionate teacher or parent behind the competition.

"It is extremely crucial for school support, especially at the AgriKids level because everything is organised and implemented by the teachers and parents.

"If we want to make a difference with agriculture in New Zealand, these programmes and competitions are a fantastic starting point because it creates a spark of interest and passion in the kids and teens which creates a ripple effect through their schools and communities."