Little River's thriving organic vegetable gardens owe, in some way, their existence to the Christchurch earthquakes.

The hectare of land under cultivation near Waihi is a long way from the city so hard hit by earthquakes in 2010 and 2011. But it was those devastating events which reinforced the determination of Sue and Gordon Boyd to create a self-sufficient lifestyle.

Sue and Gordon Boyd of Little River Organic Farm with ureniki potatoes and beetroot, among the many vegetables they grow to sell at the Tauranga Farmers' Market.

"We were living in Christchurch at the time of the earthquakes and what happened afterwards made us realise how dependent we have all become on food being delivered to supermarkets, and water and power supplied to our homes," says Sue.

Fortunately, their home wasn't in an area affected by liquefaction and when the opportunity came they sold up and returned north, seeking a piece of land on which to begin a self-sufficient, off-the-grid lifestyle.

Kaimai Forest
They found it on 25 hectares in Woodlands Rd, Waihi, tucked in close to the Kaimai Forest Park. The land was a grazing block, a little run-down, but filled with potential.

"We had always been interested in organics and in fact considered organic farming when we were managing a family dairy farm," says Gordon. "At the time there wasn't a premium for organic milk nor as much information or support for organics as now – and we thought it was too much of risk, so never went ahead."

However, the couple, who later exchanged a backpacker business in Tauranga for property in Christchurch, used their time in the south to learn from keen growers in the region. Then studying through Agriculture New Zealand's Go Organics courses, Levels 2, 3 and 4.

"Knowing what I know now, I would have converted the dairy farm to organics. If there had been any drop in production, it would have been more than offset by the low costs of the systems and the improvements in animal health," says Gordon.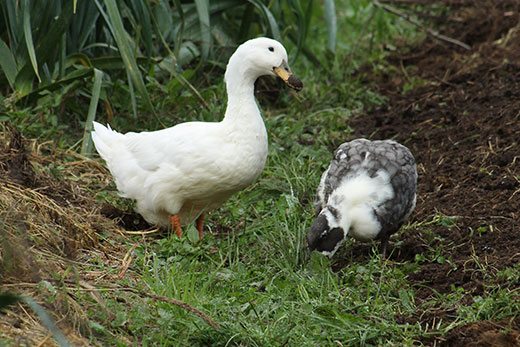 Ducks are the 'unpaid' pest patrollers at Little River Organic Farm.

Kauri mill
The farm they call Little River was originally the site of a kauri timber mill, where logs from the native bush were processed before being transported along Woodlands Rd. This then linked with Katikati's Woodland Rd to the Port of Tauranga.

Initially, Sue and Gordon lived in the former mill manger's villa but subsequently brought in a transportable home, placing it on a high point with excellent views of the adjoining native bush and their farm.

In keeping with the self-sufficient ethos, the house has solar electricity and a large solid fuel range for cooking, as well as water and area heating.

"Initially, we set out to grow all our own vegetables but produced more than we needed so started selling them at local markets at Waihi, Thames and Katikati," says Sue.

Demand was strong but the economics and time demands of travelling between so many markets was questionable, so today Little River concentrates solely on the Tauranga Farmers' Market, where this year it won the Farmers Market New Zealand 2015 Summer Producers section of the annual Producers Awards.

They also won the organic section for their five varieties of heritage potatoes Pink Fur, Kowiniwini, Whataroa, Ureniki and Karoro, and were organic runner up for their golden beetroot.

The plan was always to grow organically and the path to Organic Farm NZ certification began the day Sue and Gordon purchased Little River. Now, four years later, their produce is fully organic certified.

Early soil tests revealed it needed improving and the application of up to 150 cubic metres of compost each year to growing beds, directly or as a compost tea, has made a significant difference. But essential trace elements and minerals were lacking, so small amounts of Probitas products are also used.

A series of old baths on raised frames make up the Little River worm farms, fed by kitchen scrap and producing worm 'tea' which is used as a foliar spray for the garden. Sea weed teas are also brewed.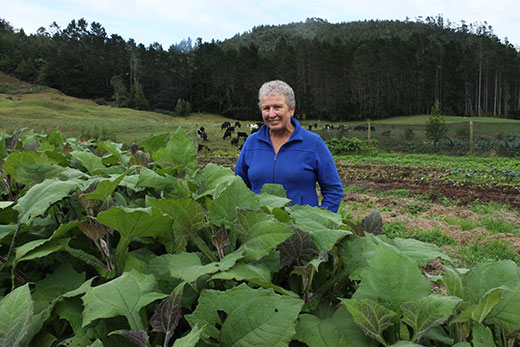 Sue Gordon with Peruvian ground apple, or yacon, which she says is delicious.

Compost enthusiast
Compost, however, is at the heart of the Little River system and that Gordon is a compost enthusiast is evident by the way he whips back the cover on a large compost mound and digs his hands into the rich dark, not-quite-ready 'brew'.

"It's all about enhancing soil biology," he says.

The compost heaps are constructed from wood chips bought from arborist companies, with the addition of just about anything which will add to its nutritional value, including possum carcasses. "We trap possums in the bush for their fur and bury the bodies in the compost. It gets so hot in there that they break down in no time."

Gordon and Sue are moving towards 'no-till' gardening which means the soil isn't dug or rotary hoed – methods which interfere with the natural soil structure and its flora and fauna.

Instead, they lay down rows of compost on top of undisturbed ground, cover it with a thick layer of grass clippings and plant seedlings directly into the new bed.

"We've had a great result from beetroot grown this way and so far it's out-competing the weeds." The system of deep mulch also retains moisture – an added benefit in the recent dry summer.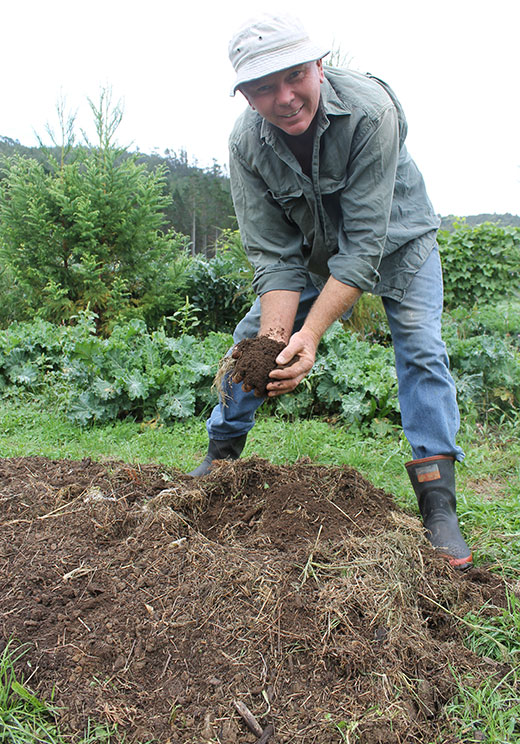 Gordon Boyd is a compost enthusiast, who makes up to 150 cubic metres of it a year.

Combat pests
Improving plant and soil health is the best way to combat insect pests, Sue and Gordon believe, as is encouraging beneficial insects which prey on pests.

Flowering plants providing nectar and habitat for predators grow among the vegetables.
In a year Sue and Gordon grow up to 30 varieties of vegetables, many well-known, others not so familiar, including the Peruvian ground apple or yacon, which has a crisp, sweet tasting tuberous root that Sue says doesn't need cooking. "It's delicious just as it is."

The couple also grow edible weeds – well the weeds grow and Gordon and Sue harvest them for customers who love their mix of chickweed, yarrow, clover, creeping mallow, dandelion and more.

"This all started because I took some dandelion to the market and then people began to ask me for mixed weeds," says Sue.

She researched what was good to eat with the help of Julia Sich, of Julia's Edible Weeds, who now holds workshops at Little River in identifying which weeds are safe to eat and how to use them.

The next workshop, Foraging For Wild Edible Weeds and Green Smoothie Workshop, is at Little River on Sunday, May 3. For more go to www.juliasedibleweeds.com

Kings Seeds, which has an extensive range of organic and heirloom varieties, provides most of the seeds from which Sue and Gordon grow their plants. And they also harvest their own seed too.

"We love to grow produce which is different from the norm. Especially those with colour, unusual shape and those that are heritage and old fashioned, varieties.

"These products make for a colourful and inviting stall at the market. It is very satisfying to see costumers try something new and also great to see folk reacquainting themselves with long forgotten varieties.

"For us, it makes coming to the market a very worthwhile experience."